"If disruption gets worse, Q4 is going to be a powder keg."
That's the prediction from Tim Holliday, owner of Children's World Uniform Supply (asi/161711) in Sarasota, FL. Like the rest of the promotional products industry, he's been contending with overseas supply chain delays all year. And unfortunately, recent reports indicate the current troubles – lack of inventory, personnel shortages, absurd ship dwell times and skyrocketing container and material costs – are likely to degenerate further over the coming months.
In 2020, promo orders surged in Q4 as buyers spent unused budgets to reward the customers and employees who stuck with them through the tough times. This year, with the steady rise of in-person events and consumer spending, Q4 has all the hallmarks of a banner season … if the sourcing quagmire doesn't get in the way.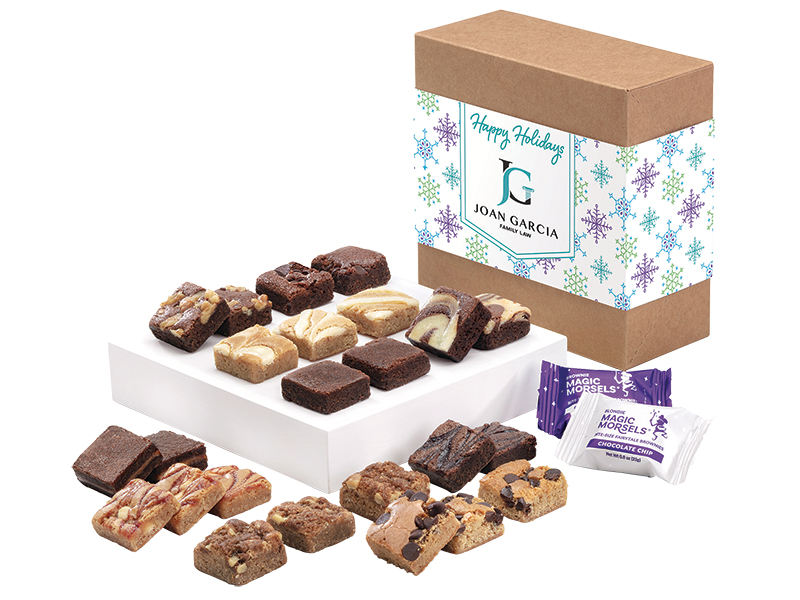 Brownie Gift Box
This gift box (CH494X) contains 24 bite-sized brownies and blondies baked in Phoenix in 10 different flavors.
Buying early can avoid those concerns, but not every client was prepared to order their holiday gifts while at the beach. So what's one alternative? Domestic-made products. Not only do they mostly avoid overseas delays while supporting job creation in the U.S., but they also tap into the "buy local" spirit that's appealing to today's consumer.
"Clients have been turning to reshored items because they want more control over the process," says Eileen Joy Spitalny, co-founder of Fairytale Brownies (asi/53518) in Phoenix. "It costs a little more, but they want to know who they're doing business with and where the products come from, and they want good quality. They also want to see a giveback component."
The sales team at iPromo (asi/229471) in Chicago is actively seeking options ahead of Q4 disruption. "We're looking for unique ways to deliver exceptional gifts while overcoming these hurdles," says Jamie Hoelscher, director of merchandising. "Meanwhile, consumers increasingly want USA-made products, so price has become less of a factor and purchasing high-quality product that helps the American economy has become more important and in line with their values."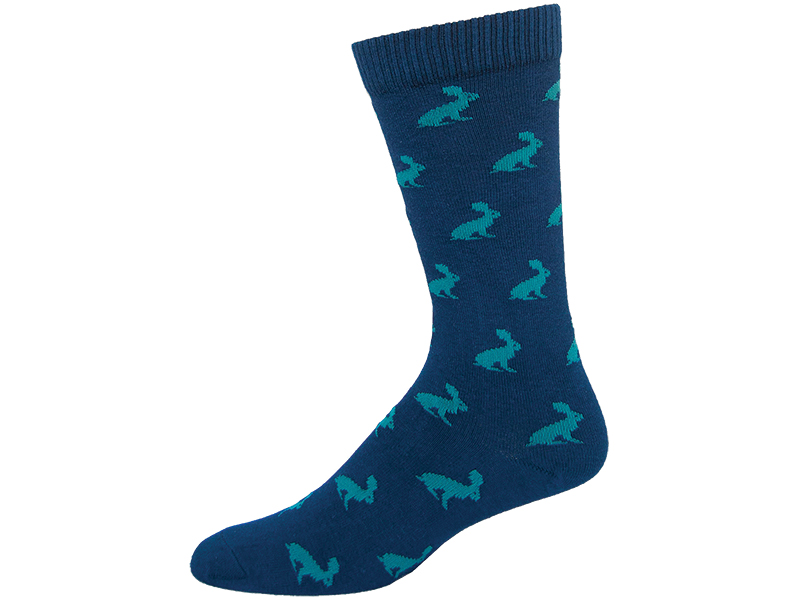 Dress Crew Sock
Knitted in North Carolina, this dress crew sock (4-720D) features an all-over knit logo that allows for plenty of creativity.
Top 40 supplier HPG (asi/61966) launched its new food gift line, Batch & Bodega, in August 2020. The collection features small-batch food brands from across the U.S., each with a unique story. Jason Lucash, Batch & Bodega's founder and HPG's chief development officer, had what he calls his "Eureka moment" a year before, when he visited Chelsea Market in New York City and spotted small-batch artisan food offerings that he thought would fit well in promo.
"It's part of a bigger movement right now," says Lucash. "People want to support local and smaller craft items, and they want to spend at a higher price point. We market the makers and feature their stories, and customers love that. We also identify them as women-, LGBTQ- and minority-owned."
While current searches for made-in-USA products in ESP have fallen since the height of interest in the spring of 2020 (when factory shutdowns in China forced distributors to look locally), they were up 32% in July 2021 compared to July 2019. Similar trends are seen with Google searches for made-in-USA – not explosive growth, but settling into a floor higher than pre-pandemic interest. With ongoing uncertainty all over the world, the appeal of USA-made product lines may prove intriguing to buyers and distributors alike this holiday season.
Local

Flavor

Sweet and savory food items are a perennial favorite for Q4 gifting, and are sure to remain so for a tasty, comforting experience amid ongoing uncertainty this year. Though delivery companies will be under strain during their busiest season, distributors can mitigate frustrating delays and disappointed customers by pitching gifts from domestic facilities.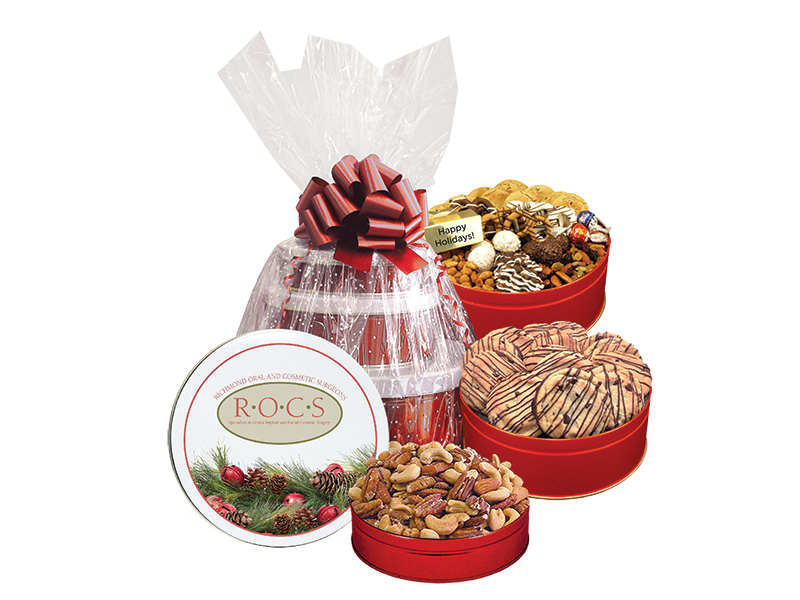 Treat Tower
Made in Georgia, this triple delight package (TC-DELIGHT) includes mixed nuts, chocolate-dipped cookies and pretzels, truffles and more.
For almost 30 years, Spitalny and her team at Fairytale Brownies have been baking brownies in Phoenix using a treasured family recipe. She partnered with David Kravetz, her childhood friend, to establish their first bakery in 1992, and now offers a full line of individually wrapped kosher brownies, blondie bars and cookies made with all-natural ingredients by their staff in Arizona.
"We do both the baking and package customization here," says Spitalny. "And we've been doing drop-shipping forever. We can ship worldwide, from 50 to 5,000 addresses. And we control the inventory so there aren't shortages."
On the other side of the country, in Valdosta, GA, a staff of 30 arrives at Fresh Beginnings (asi/55439) at 4 a.m. each day to begin creating confections like cookies, brownies, pretzels, nuts and chocolate-dipped treats to ship out all over the world. In recent months, the company's drop-shipping capabilities have certainly come in handy. And it sources ingredients from across the country.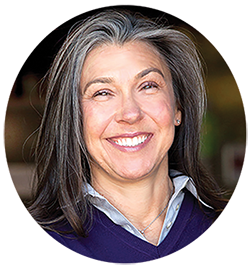 "Clients have been turning to reshored items because they want more control over the process." Eileen Joy Spitalny, Fairytale Brownies
"We reserve a spot on our bakery schedule as soon as we receive the distributor's PO, which secures a ship date," says Marketing Director Michelle Barlow. "We encourage distributors to order early because it's going to be a busy Q4, but we also know things come up. Even if it's late in the season, we still want our customers to come to us so we can see what we can do, because we'll make every effort to get it out on time."
HPG reports that Batch & Bodega continues to see success. Distributors can choose from themed kits or customize their own, and take advantage of the "Fresh" service that offers overnight shipping for perishable food, like ice cream and bagels, and the "Supply" service for food in bulk. Lucash adds that end-buyers also want transparency in the supply chain, and to that end, he says, Batch & Bodega has very strict quality standards for its partner brands. Now the line includes baked goods, cakes and ice cream from makers located from coast to coast.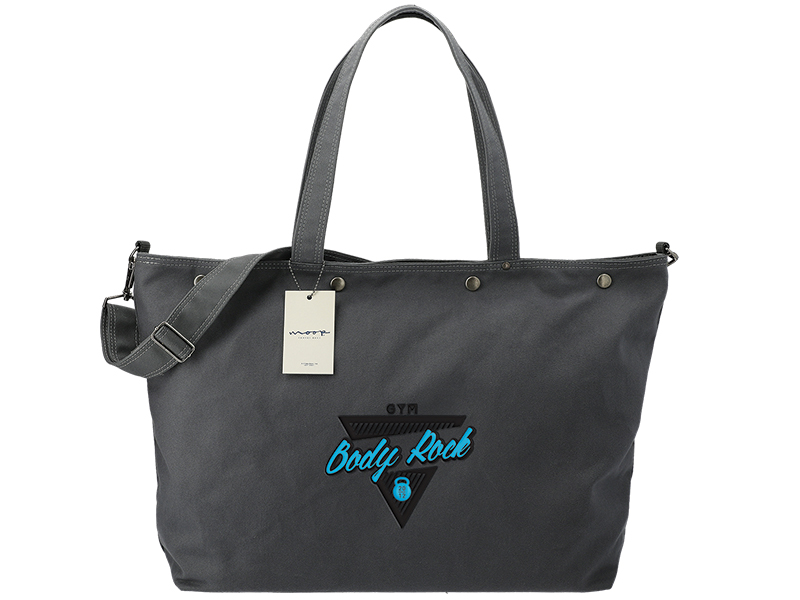 Moop Canvas Tote
PCNA (asi/78897)
First discovered at a small shop in Pittsburgh, this domestically-made cotton canvas tote (9005-22) offers function and style.
"We wanted to partner with amazing brands with a story," says Lucash. "They also needed to have shelf-stable products that we could inventory and had the ability to scale up. That's hard to get, but it got easier. We also have brand exclusivity in the industry."
It's been a popular line for Holliday at Children's World Uniform Supply, which has mortgage companies and financial clients that use Batch & Bodega and Fresh Beginnings regularly as appreciation gifts. "There's definitely an opportunity to pitch smaller-batch, more local items now," says Holliday, citing the "killer packaging" used by the food suppliers as a big bonus.
Lisa Goldberg-Belle, owner and president of It's a Wrap Gifts and Promotions (asi/229662) in Springfield, IL, sources locally made goods from artisan makers to create "local" gift baskets. In Q4 2020, she put together "A Taste of Illinois" gift box for area clients containing snacks made in the state. She created a similar package with Wisconsin items for a financial client. This year, she plans to add more snackable items, like beef sticks, sausage, cheese bites, chocolates, popcorn and even locally milled corn meal for baking cornbread. Says Goldberg-Belle: "We had agricultural clients who bought this box and added a branded T-shirt to it."
Bringing It
Back
Food gifts are certainly a holiday and domestic favorite, but there are other options that confidently check both boxes.
A local connection brought Moop, a line of high-end canvas bags and lifestyle items that's now offered by Top 40 supplier Polyconcept North America (PCNA, asi/78897), to the promo industry. Until a recent move to Seattle, the female-owned company made all its bags in Pittsburgh, close to PCNA's headquarters.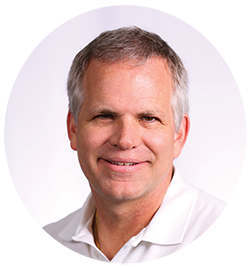 "There's definitely an opportunity to pitch smaller-batch, more local items now." Tim Holliday, Children's World Uniform Supply
"We found out about them through word-of-mouth," says Isaac Ward, the category manager for totes, duffels, luggage & travel gifts at PCNA. "We saw the bags and visited their storefront and knew we wanted to partner with them, even before COVID. We've seen small businesses really struggle during the pandemic, so this was a good time to work with them."
While the line is normally offered at retail pricing (think $175 for a larger tote, which PCNA carries), Moop worked with the supplier to design and offer an exclusive "entry-level" tier of totes priced between $30 and $40.
"Yoga studios are popular clientele for them," says Ward. "Fortune 500 companies have used them recently for smaller departmental gift-giving. We've had early success and we're looking to go deeper in their product line."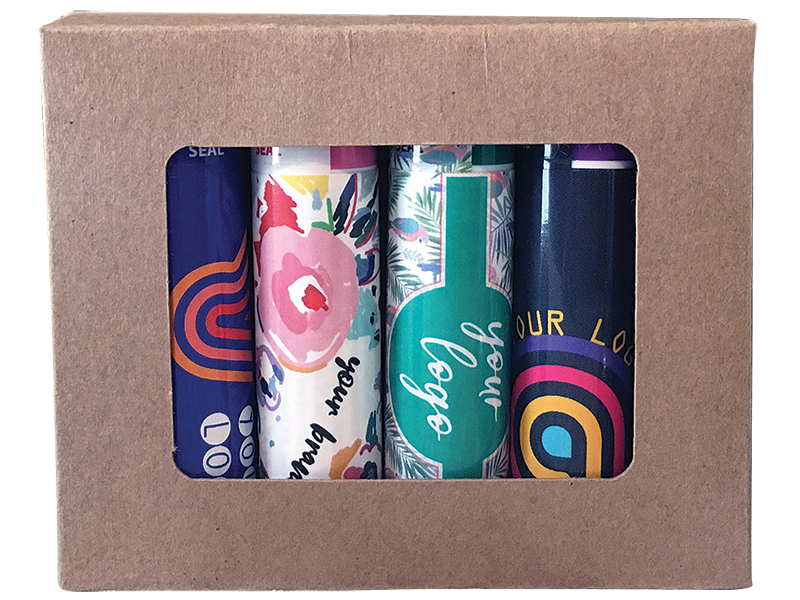 Lip Balm Sampler
This seasonal lip balm sampler (SET-4S) comes from Iowa and includes seasonal flavors like Peach Plum, Guava Passionfruit, Orange Pineapple and Blackberry Tangerine.
Raining Rose (asi/80489) has 300 people making its personal care items, like lip balm, lotions and sanitizer, in its facility in Cedar Rapids, IA. The company sources ingredients, like beeswax, jojoba oil and olive oil, from all over the world, but to be ready for Q4, it has stocked deep inventory to make sure they can keep up with demand. And it has strict compliance standards for both globally and domestically sourced ingredients, and everything is tested on arrival and as part of finished products.
"Our planning team has been working for the past nine months on inventory, so it's deep," says Lindsey Davis, director of promotional sales. "We're a niche company with niche offerings, and we have very strong relationships with our ingredient factories."
This year, Raining Rose is making its most popular personal care items easier to obtain, with a 48-hour turn on standard-sized lip balms, 1-oz. lotions and pocket bottles of sanitizer. "Maybe a budget opens up they didn't know they had, or an event comes up, and we can get items out quickly," says Davis. "We love coming through for customers."
Sports Solutions (asi/88876) has 20 years of experience manufacturing and imprinting socks, headbands, wristbands and more in its manufacturing plant in North Carolina. While the product line has grown significantly over the years, says owner Charles Badgett, "our objectives remain the same: keep prices reasonable, offer a quality product and provide amazing customer support. We listen to clients and we've pivoted to meet their different needs."
To be clear, domestic manufacturers aren't completely immune to supply chain disruption. Sports Solutions, for example, is contending with staff shortages at the domestic cotton companies that provide them with raw materials. But the company is continuing to work through it and absorbing price increases wherever possible. "If everyone understands and doesn't hit the panic button, we'll be OK," says Badgett. "Distributors shouldn't promise their clients anything they're not sure about. Let's just work it out, because these are the times we're in."
The
Social

Aspect

Domestic production creates job opportunities for local communities in the U.S., and can provide more transparency, social compliance and sustainability. Increasingly, buyers are prioritizing such qualities and are looking for companies that meet those standards in various ways.

For example, social organizations like the International Labor Rights Forum have reported recently on the long history of child and slave labor on cocoa farms in Côte d'Ivoire and Ghana, where more than 70% of the global supply of cocoa originates. Instead, Fairytale Brownies uses traceable Callebaut cocoa from Belgium.

Top Industries for USA-Made
Construction
Manufacturing
Nonprofits
Faith-based
Education
Unions
Company parties
Employee recognition
Retail
Finance
Real estate
Ingredients used in Raining Rose's products are also ethically sourced. Davis says the African beeswax supports the economic stability of villages there. "Our team works on products that appear at retail, like Target and Sephora, so they're experienced with different social compliance audits," she adds. "Clients want gifts to count, so they're looking for sustainability, a brand story and utility."
Buyers and distributors are also increasingly looking for suppliers with give-back campaigns that are baked right into their business models. As one example, for the past 20 years Fairytale Brownies has donated proceeds to KABOOM!, which builds kid-designed playgrounds to foster more play equity across the country.
"My business partner and I met on the playground as kids," says Spitalny. "We've donated almost $500,000 to this organization, and recipients like seeing that because it means they're helping in their area."
Though they often come at a higher price point, domestic items are of particular importance this year – they largely avoid overseas supply chain drama, provide jobs in the U.S. and focus on a higher purpose and giving back. Says Lucash: "Product sells a lot better when there's mission and purpose behind it."