From staying home to back to work and from digital calls to live events, companies are adapting their fourth-quarter gifting to a changing landscape. Resurgent markets like travel offer tremendous potential, while tried-and-true categories like reusable drinkware continue to make an impact. Here, several suppliers and distributors weigh in on the fastest-moving promo items this holiday season.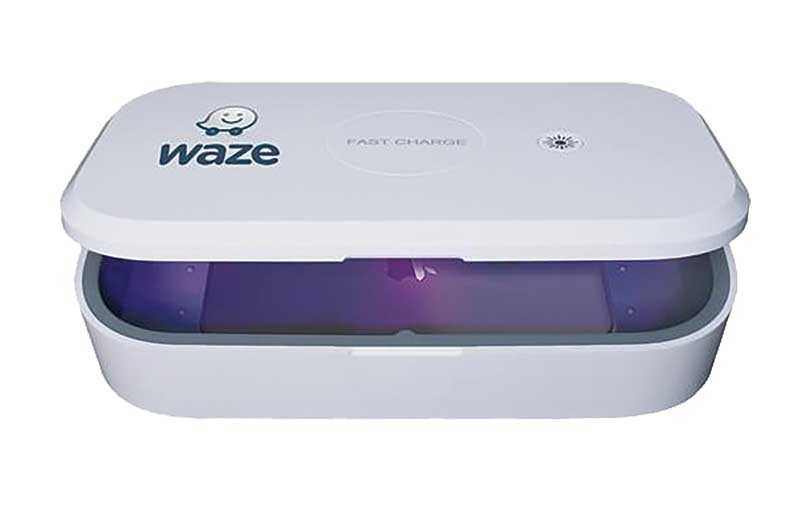 Sanitizer Box and Charger
This UV-C box (71284) combines two sought-after trends in one device: sanitizing and wireless charging.
Safe and Clean
Candece Hadley, senior sales professional at Interform (asi/231501), says due to habits formed in the pandemic, UV phone sanitizers with wireless chargers atop them are popular. Not only do they disinfect a phone, but keys and wallets too. "People are still into keeping things clean," she says.
Entire-room sanitizing is also in demand, says Jamie Stone, president of Gifts By Design powered by BAMKO (asi/131431). She is partial to the personal air purifiers offered by Twintech (asi/92357), especially the supplier's filterless Luft Cube, as well as the company's ChiCharger.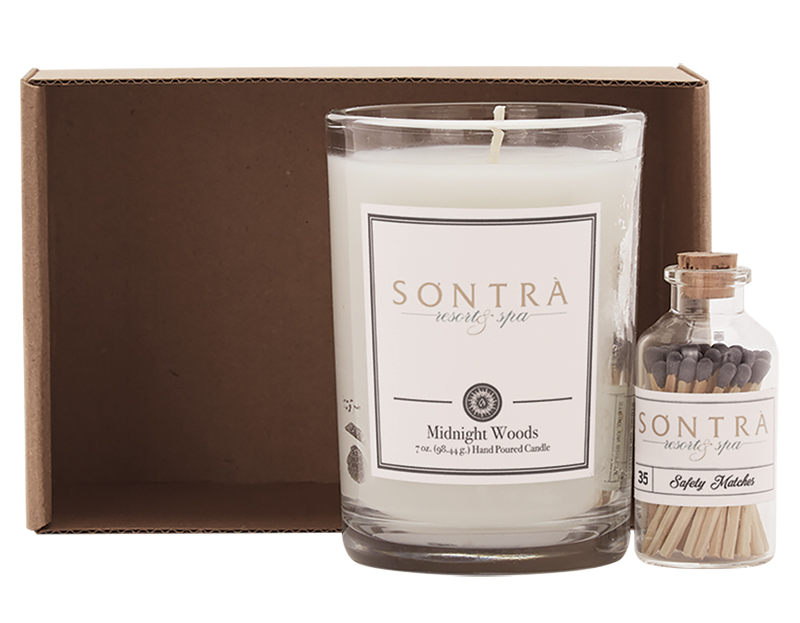 Scented Candle Gift Set
Holiday comfort and relaxation can be found with this scented candle gift set (TGS Ignite).
Cozy Holiday
SnugZ USA (asi/88060) custom manufactures personal care items, and Brandon Brown, vice president of marketing for SnugZ, believes candles will be popular for holiday gifting. Individual candles come in a gift box in 3- or 8-oz. sizes and can be kitted with a corked glass bottle of matches. "We pad print on the glass and do a full wrap, up to six colors, and also label the box," he says. Additionally, SnugZ offers diffusers, as well as a line of bath salts, soaps, lotions and essential oils, mirroring best-sellers from Young Living and doTERRA, Brown notes.
Stone says comfort and nesting trends in gifting also have given rise to items such as hooded blankets from Sock 101 (asi/88071), plus socks and slippers. "The trend is soft and fuzzy, getting cozy and enjoying the holiday season at home," she says, adding that six-in-one game bundles and kits with a knit cap, scarf and hot cocoa are also popular.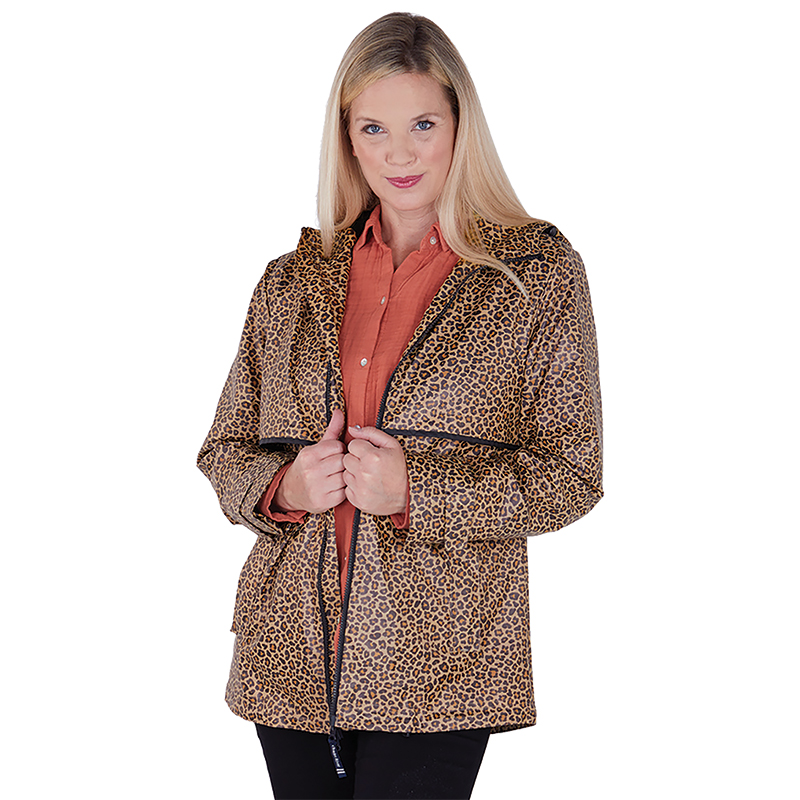 Cheetah Print Jacket
Buyers will go wild for fun animal prints, like the cheetah pattern on this women's rain jacket (5191).
Fun Prints
Wearables, updated with trendy prints, remain a cornerstone of the promo world. Julie Crawley, director of product development for Charles River Apparel (asi/44620), says the company has updated its classic Pacific heathered fleece with two modern styles: longer with a narrow sleeve, and an athletic modern fit with a hood, which targets a younger customer. And speaking of the trendsetters, Crawley says animal prints like crocodile, leopard, cheetah and giraffe prints are still everywhere. "We felt so strongly about that that we took our tried-and-true New England raincoat and put a cheetah print on it," she says. "Animal prints give texture without having actual texture."
Josh King, CEO of You Name It Specialties (asi/365123) in San Antonio, TX, has been moving many custom-sublimated polo shirts. "They're unique. It's 100% yours – nobody else has it," says King, who has been securing the shirts in about three weeks through direct importing. Customized woven socks have been a weekly request for King as well. "A fun dress sock, a fuzzy sock for at home on the couch – there are many ways to tie into a campaign and make them fun," says King, who recently procured a hammer-and-saw-themed sock for a construction company.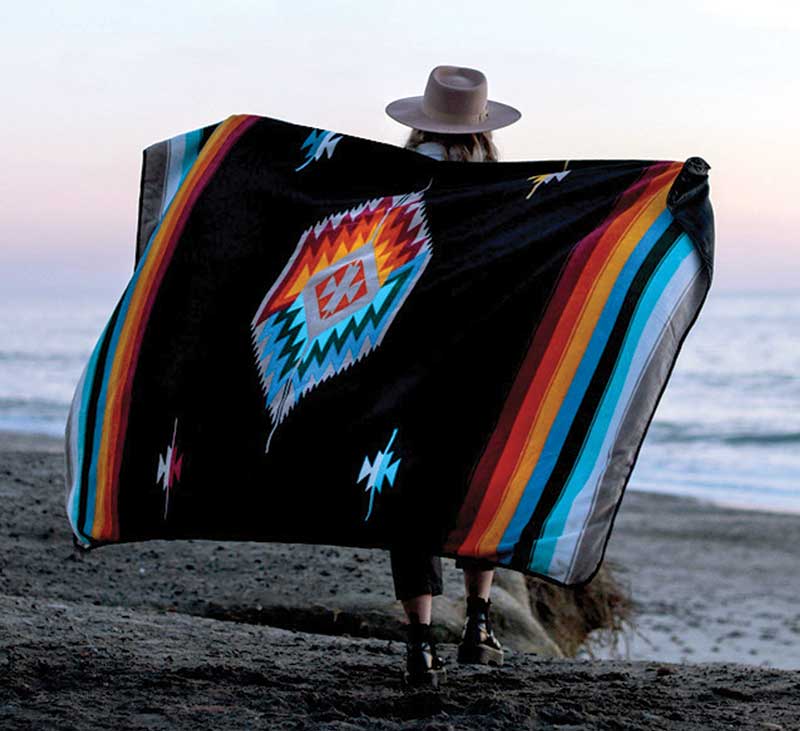 Camp Blanket
This Slowtide camp blanket (100988-988) is made from sustainable and recycled materials and ethical manufacturing.
Products With a Cause
Stone says many of her large corporate clients like Facebook and Google are increasingly pursuing eco-conscious items with a giveback component. "Earth-friendly and sustainable products are really grabbing hold," she says. "We have people actually buying these items this year, not just asking about them. Large corporations don't want to add to landfills; they want to walk the walk. Global warming is real, and it's filtering down to branded merchandise." She adds that MiiR drinkware and Slowtide blankets (both offered through Gemline) donate a portion of profits to environmental causes, as do apparel and gear items from Stormtech (asi/89864) and Cupanion drinkware.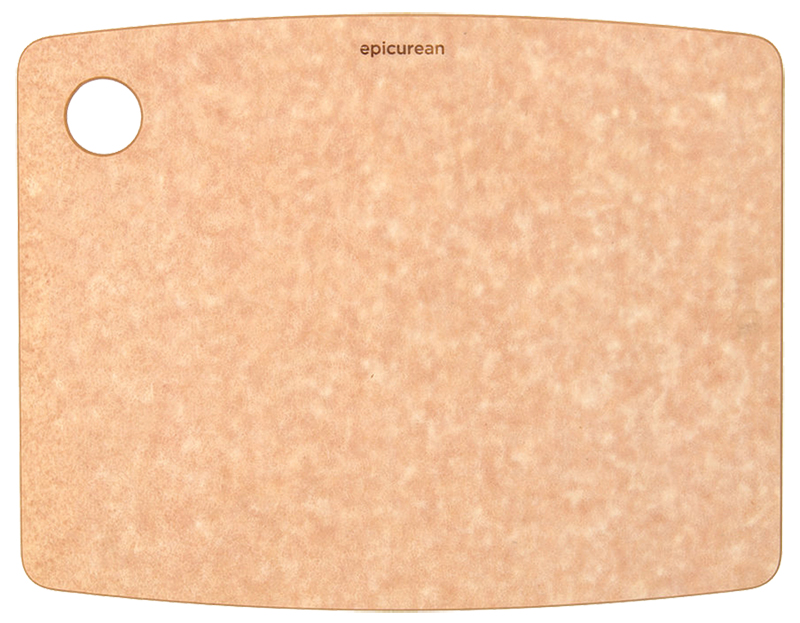 Epicurean Cutting Board
Continued demand for home products makes this epicurean cutting board (001-120901) a surefire hit.
Work Wherever
While some companies are bringing their employees back to work, there are millions more who continue to work from home. Buyers have to consider items that will appeal to those different groups.
As people settle in for the colder months, utilitarian houseware-type items will be trending, says Interform's Hadley. "People are still home more than they're away, and housewares are utilized, appreciated, practical and functional," she says. This segment also appeals to clients who are sustainability-minded, she says, as they're looking for gifts with a practical bent. She notes there's been a lot of interest in cutting board sets: "We get a lot of requests for Swiss Army's epicurean line," she notes. "Their cutting board is made with materials that don't absorb the juices and the elements. You can cut raw meat, then immediately cut onions. You rinse it, but you don't have to clean it as well."
Brown of SnugZ USA says that as companies make a return to in-office work, they're ordering "welcome back" kits in anticipation. "A lot of employers are giving sign-on bonuses with a water bottle, a lanyard and sanitizer," he says. For companies embracing hybrid work models, Brown fields requests for work-from-home kits that include a phone grip called the Momostick. "We can do a full-color imprint on those," he says, adding that the grip also works with wireless chargers.
Charley Mann, national account executive at Links Unlimited (asi/67617) notes that Amazon's smart-home products – the Echo, Echo Show and Echo Dot, which are offered by Links Unlimited – are popular examples of items that make a home or home office more livable and functional.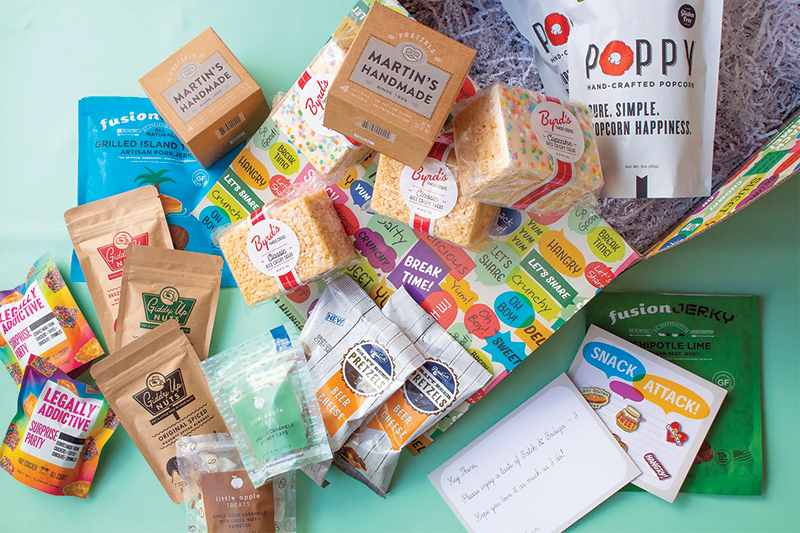 Snacking Kit
HPG (asi/61966)
This Batch & Bodega snack kit (Snack Attack) offers a wide variety of delicious treats.
Eat, Drink and Be Merry
King says gifts with thoughtful touches will be key this holiday season. Shaken by the pandemic, he says employees want to feel extra care, and has been impressed with Batch & Bodega's edible gift sets from HPG (asi/61966), which also include a traditional promo item and handwritten note. "That's a very nice way to show appreciation," he says. "The gifts need to connect on a personal level." Stone also sells a fair number of gift sets, from food, coffee or s'mores kits to cocktail or wine sets. An added benefit of the kit amid supply chain issues, Stone says, is the option to drop-ship. "That will be a big thing this year," she says. "People in the past did employee gifts at the office and were meeting clients in person, but now we're sending these kits to homes."
Snugz's Brown says barware is also a strong Q4 category, as many weathered the harsh stay-at-home months by investing in their bars and making their own drinks. "We've got whisky stones that have been a huge seller in the pandemic," he says. "We also have beautiful whisky glasses we can pad print or laser etch," as well as flasks and bottle openers.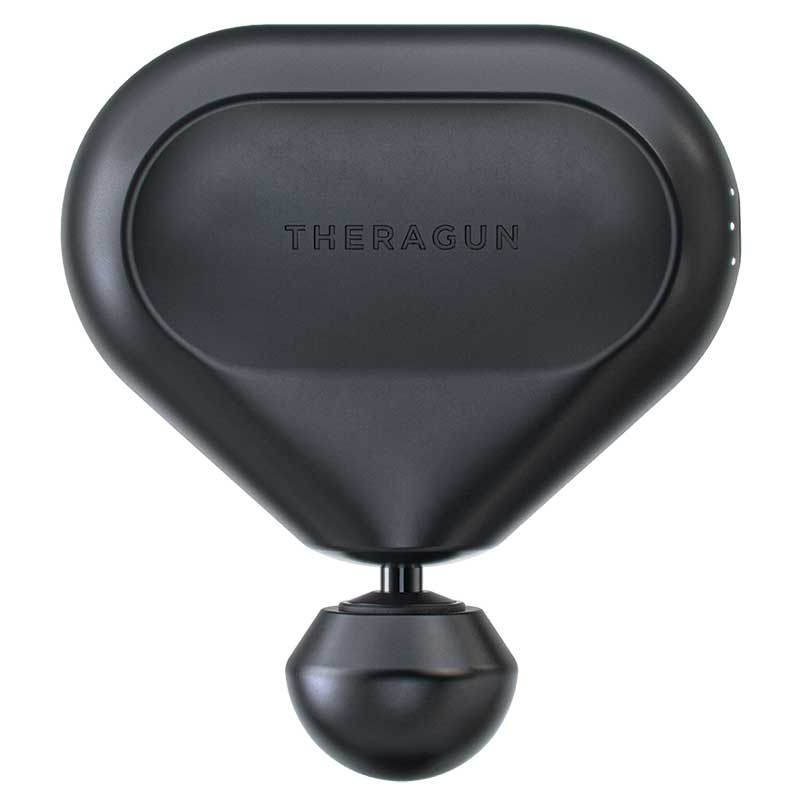 Mini Massage Gun
This Theragun mini massage gun (MINI-PKG-WHT-US) is the hot product of the season.
The 'It' Gift
As for the singular "wow factor" holiday gift this year, Hadley and others say massage guns have claimed that spot. She's already sold over 1,000 units from Logo Included (asi/67837). Stone concurs, adding that Therabody personal massage guns are huge at retail. Hadley says there's no doubt more suppliers will be itching to offer massage guns very soon. "You're going to see more introduced into the industry," she says.
Links Unlimited offers Therabody products, and Mann says the $199 MSRP Theragun minis continue to fly off the shelves at retail. The transportable massagers hit a sweet spot for employers who are willing to spend. "We were all home thinking about health for a year," he says, "and companies are into keeping employees safe."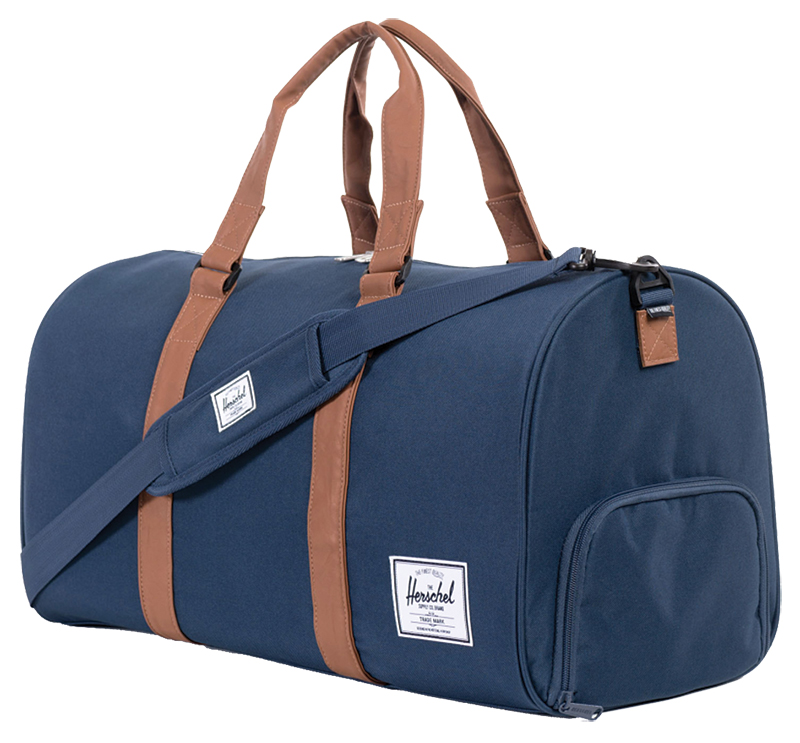 Weekender Duffel
PCNA (asi/78897)
Combine two big trends – travel products and high-end retail products – in one item with this Herschel 20" duffel (2009-08).
Travel Helpers
Even as rising cases from the delta variant cast doubt on the weeks and months ahead, travel accessories have been re-emerging, Stone says, owing to eased restrictions. She is taking more orders for duffles, passport wallets, luggage tags, packing cubes and rolling luggage. "Companies want to support and encourage their employees to get out there again and travel," she says. "A lot of people didn't use their PTO last year." Popular brands like Herschel from PCNA are doing really well as co-branded pieces.
Mann is likewise noting an uptick in requests for travel-related items. "We do a lot of onsite event gifting, and the country is loosening up," he says. "Our event gifting team, after sitting around thinking they weren't going to have a job for a year, are as busy as ever." For Mann, tangential travel products like sunglasses – or bundles pairing sunglasses and a Sonos Bluetooth speaker, an Amazon smart device or earbuds – are popular. "Event gifting has been focused on one brand, typically," he adds, "and now we offer the ability to select among many brands. This fourth quarter is going to make Tickle Me Elmo and the fidget spinner phases look tame."