It's been billed as a year to return to normalcy, and that's certainly been the case with the most popular promotional products searches through the first quarter of 2021.
At the beginning of the year, ASI launched a new ongoing initiative that aims to capture the shifting interests of distributors: the Top 100 ESP Searches. The project showcases the terms that distributors searched for the most on ESP – both in an overall ranking of the Top 100, as well as broken out into 14 product categories.
The data will be updated quarterly, and the results here reflect the searches exclusively for Q1 2021. (The next update with Q2 searches will arrive in late July or early August.)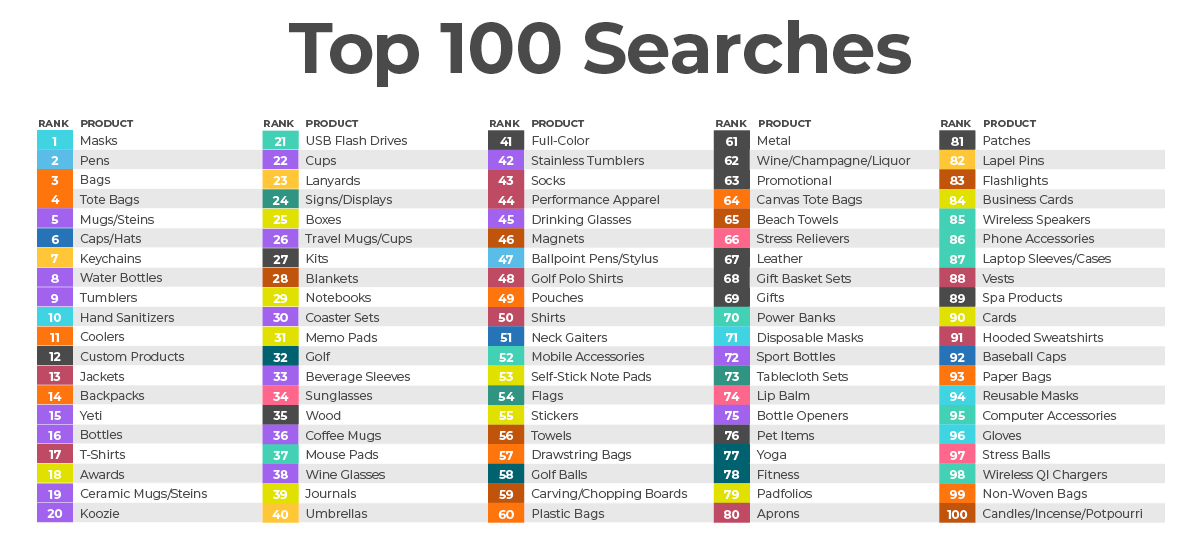 What were the biggest changes and trends in the quarter?
Distributors this past quarter made a concerted return to traditional promotional products in lieu of the PPE that dominated 2020. Hand sanitizer dropped from number two to number 10, while items like thermometers, bandannas, touchless openers, antibacterial products and face shields all fell off the list.
In 2020, masks were by far the most popular product search of the year, boasting over half more searches than the next closest product. Masks were still the most searched items in the first quarter of 2021, but they had less than 20% more searches than the next most popular product – pens. The gap is clearly narrowing.
Seasonal favorites such as coolers, golf products and beach towels either made their first appearance on the list or made significant jumps up the rankings.
Golf balls were the fastest riser on the list, moving up 34 places. Other products that moved up at least 20 places include plastic bags, canvas tote bags, wine glasses, bottle openers, magnets, towels and golf products.
Few products outside of PPE had major drops of 15 places or more. The ones that did were calendars, phone accessories and pouches.
Product Categories
The Top 100 ESP search terms are divided here into 14 product categories and displayed with their Top 100 rank. The size of the icons corresponds with the number of searches for each product relative to the most popular search term in all of ESP (which in Q1 2021 was masks).
Apparel
It was a strong quarter for apparel. Jackets and T-shirts inched higher in the Top 20, golf polo shirts made a noticeable jump (from 65 to 48), and aprons, vests and hooded sweatshirts debuted on the list.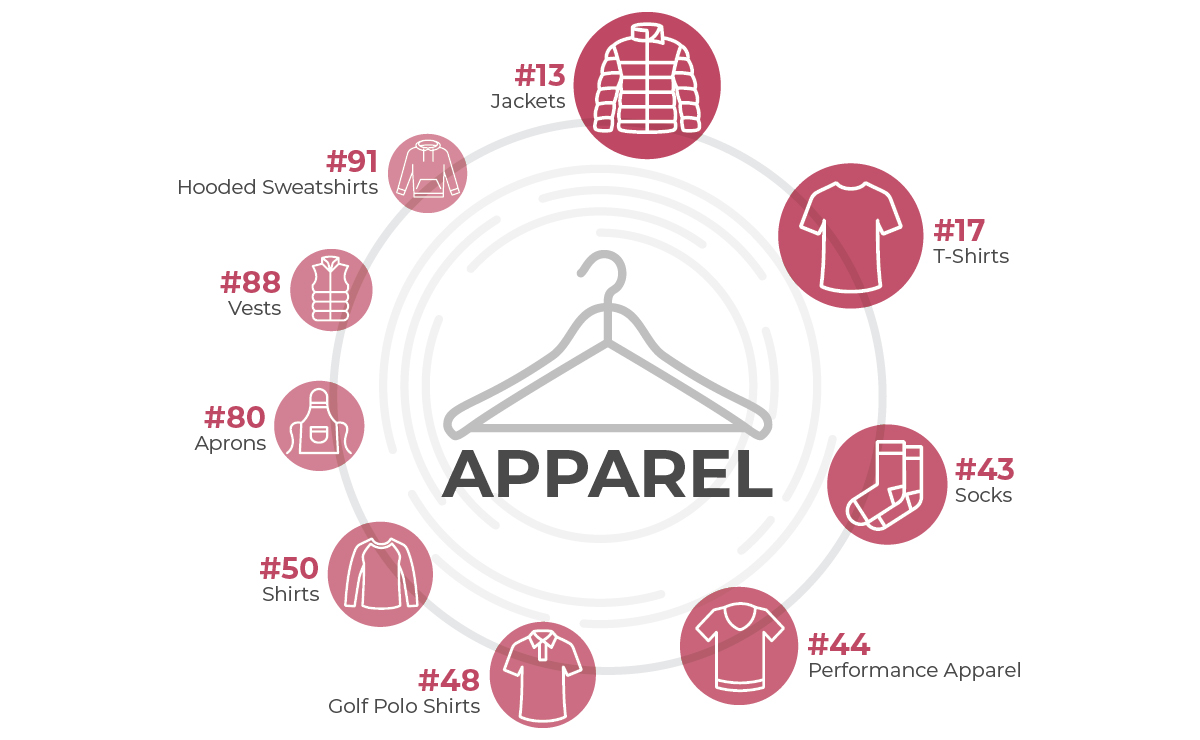 Bags
Closed stores and fears of COVID transmission caused shopping bags sales to struggle in 2020. But interest has noticeably picked up in the quarter, as plastic bags and canvas tote bags each jumped at least 20 places.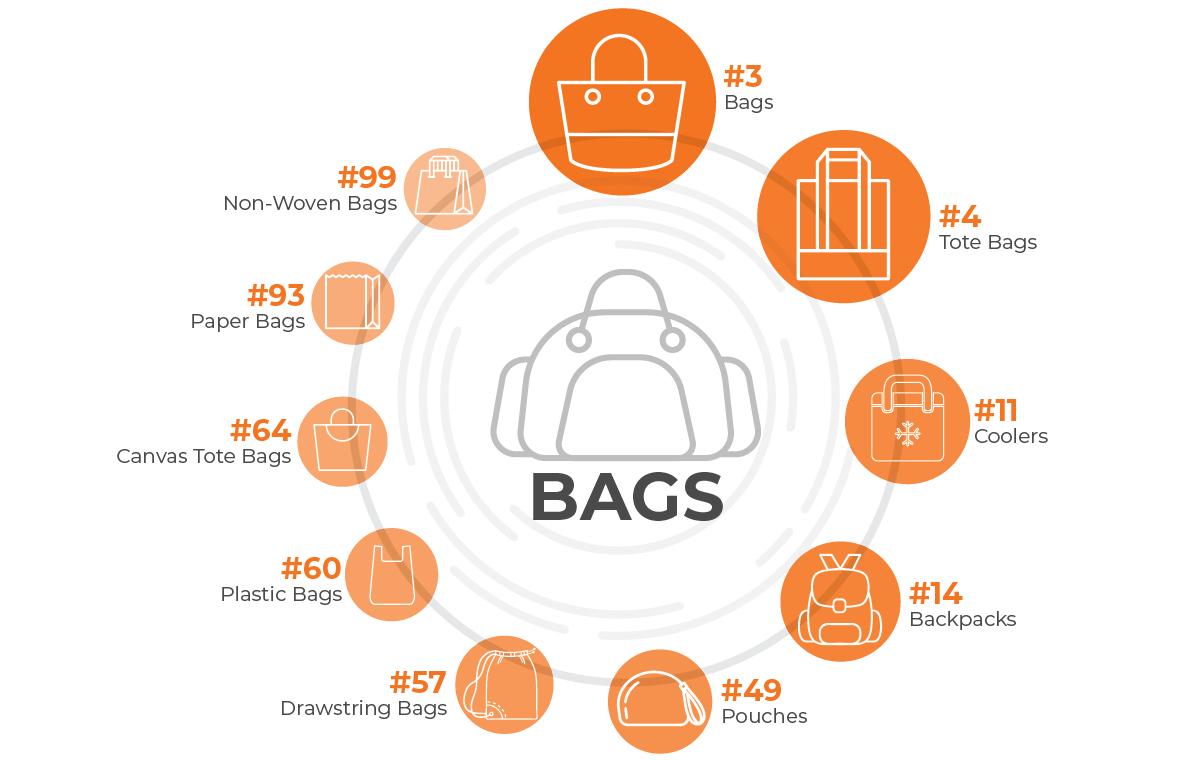 Desk & Paper Products
There was a lot of movement in this category during the quarter, as memo pads, self-stick note pads and stickers all rose precipitously, while calendars (a seasonal product) unsurprisingly dropped off the list.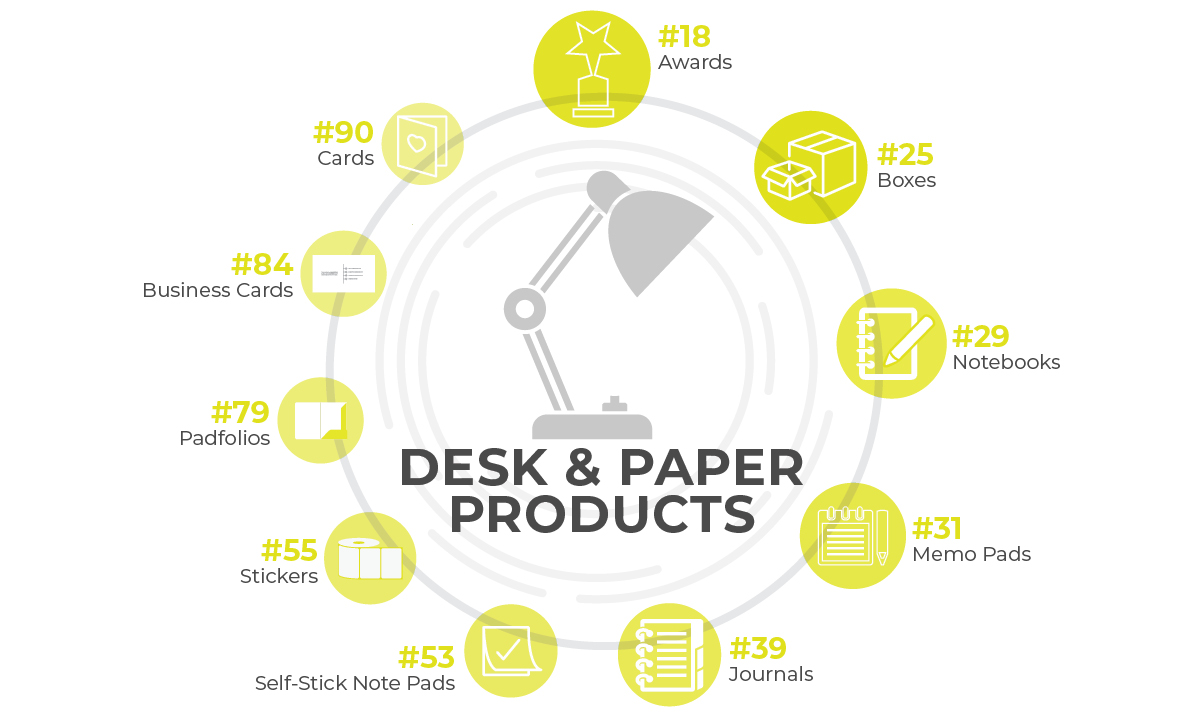 Drinkware
The most crowded category was relatively static, though wine glasses (moving up from 59 to 38) and bottle openers (from 98 to 75) had notable leaps.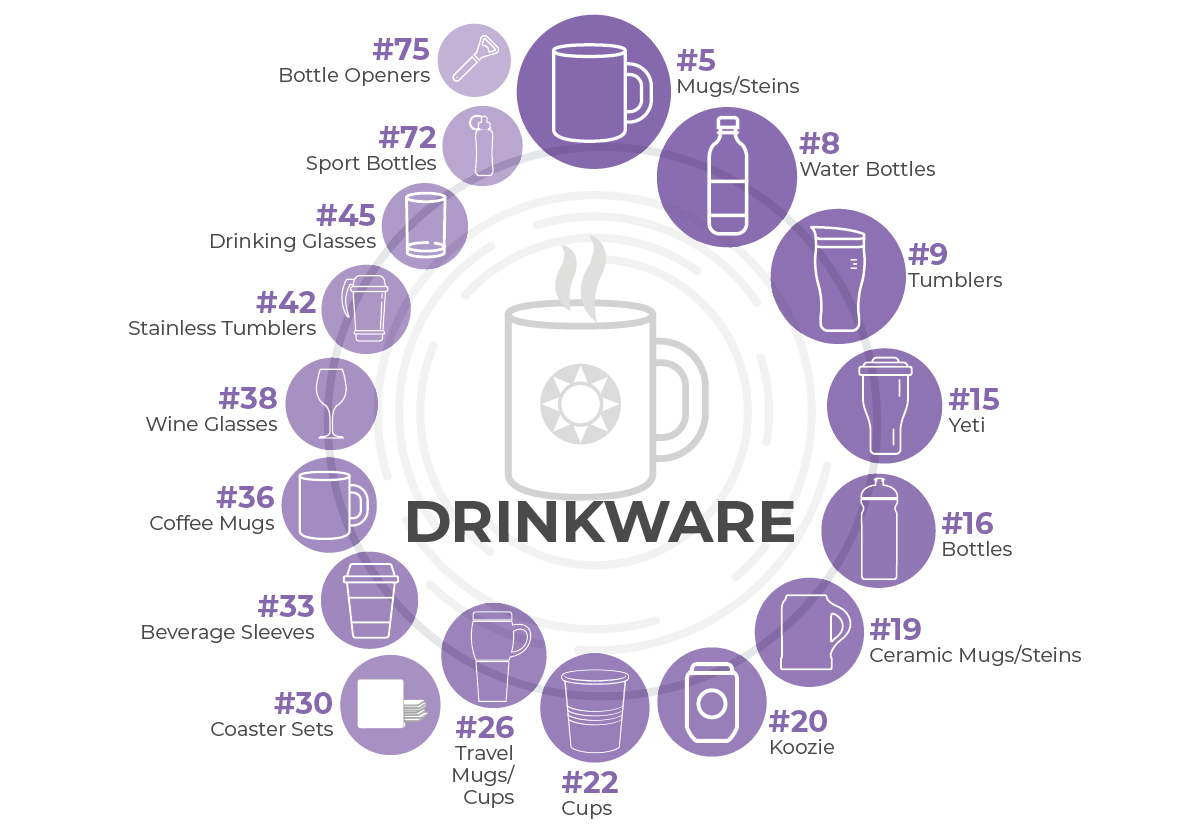 Headwear
The COVID boost for bandannas and gaiters certainly wore off. Neck gaiters dropped from 25 to 51, while bandannas disappeared from the list completely after ranking 18th for all of 2020.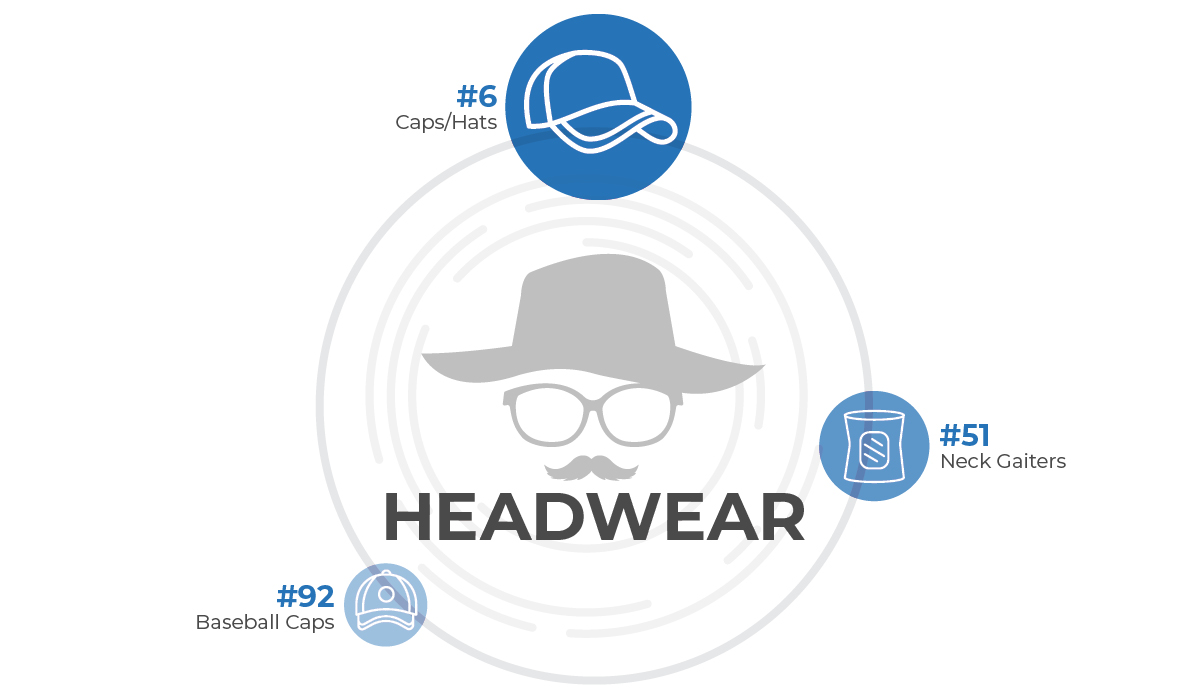 Health (Non-PPE)
COVID-driven items (thermometers, medical products and touchless openers) disappeared off the list while a perennial favorite – sunglasses – reaped the rewards by jumping 19 spots.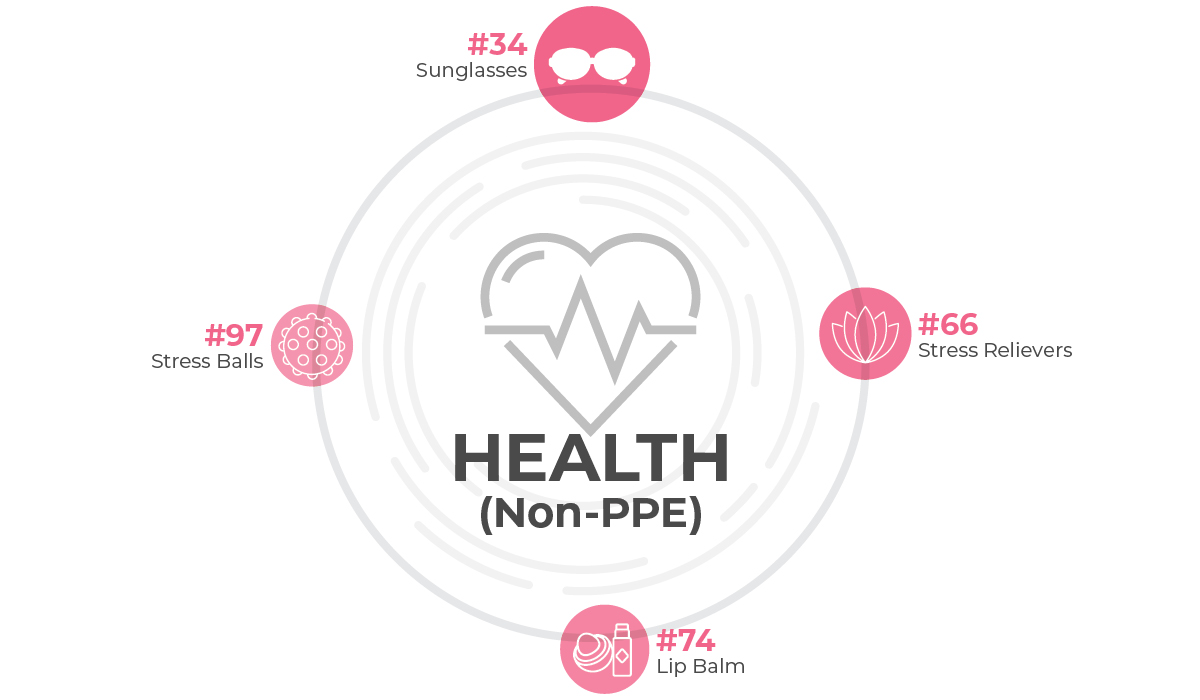 Home
Who's ready for warmer weather? Certainly distributors, as towels rose 21 spots and beach towels make their first appearance on the list at 65. Other home items proved popular, including magnets (rising 20 spots) and carving/chopping boards (debuting on the list at 59).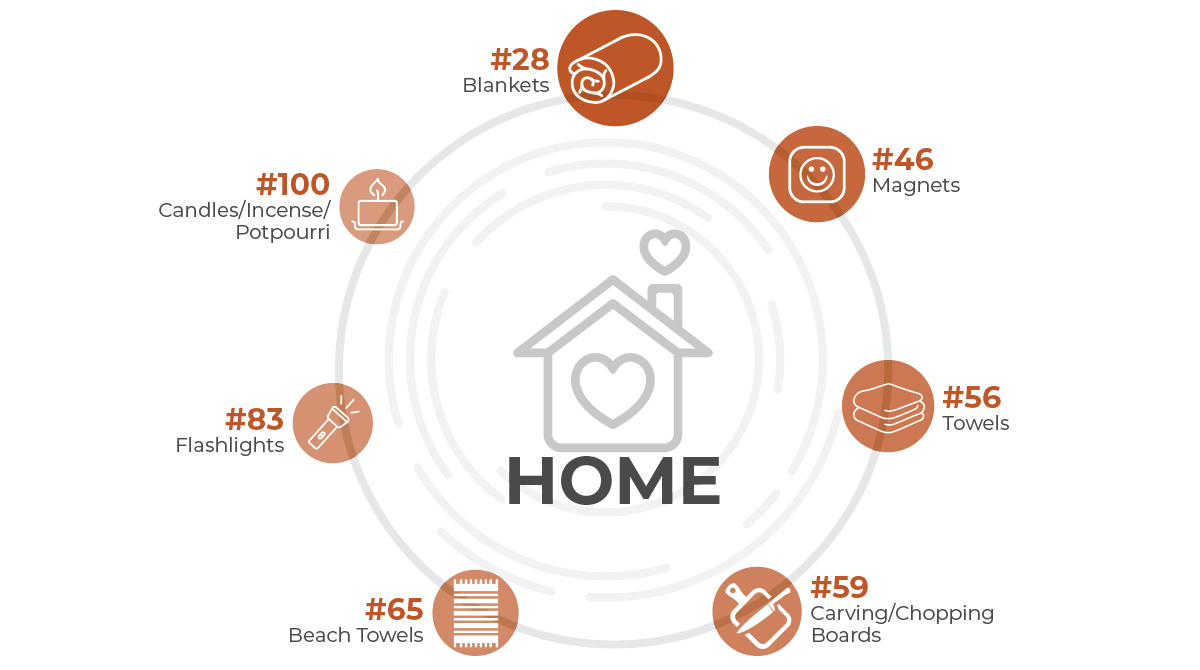 Other
The kitting rage continued strong in 2021, as kits climbed three spots in the quarter to number 27. Metal products, pet items and wine/champagne/liquor were all fast risers during Q1.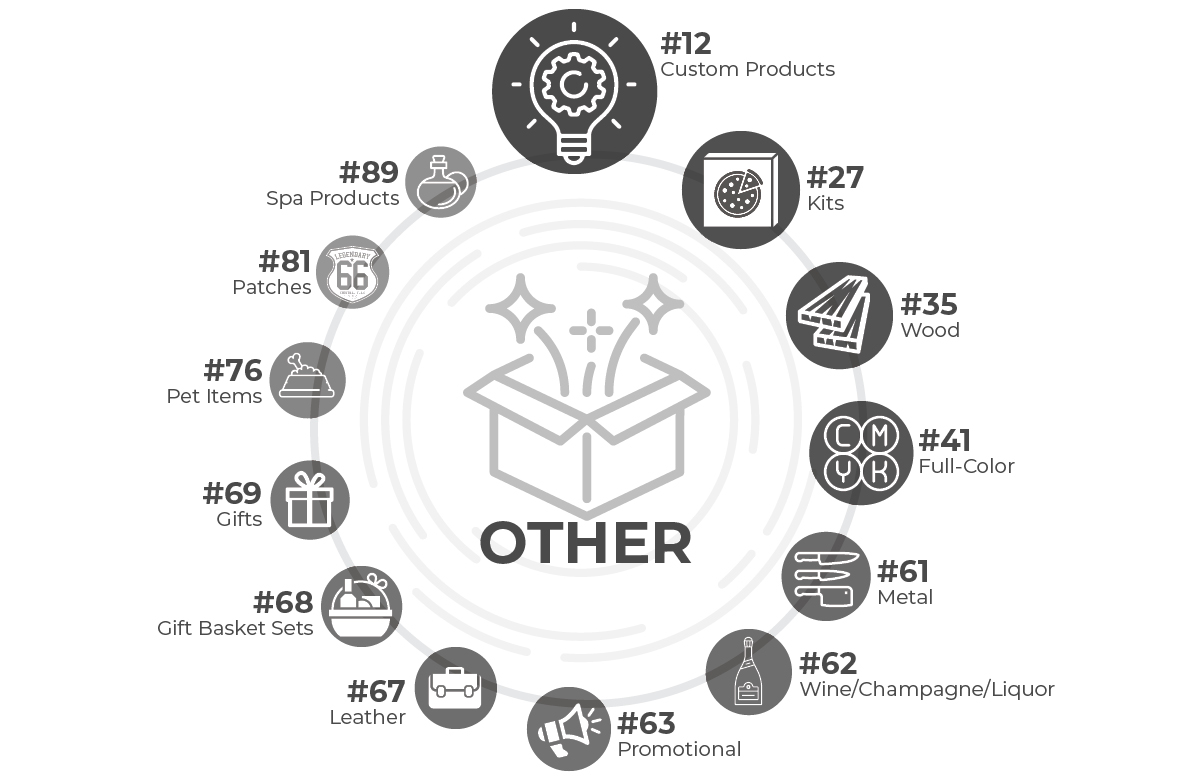 Personal
Live events are slowly starting to trickle back, but you couldn't tell from lanyard searches, which dropped slightly from 16 to 23.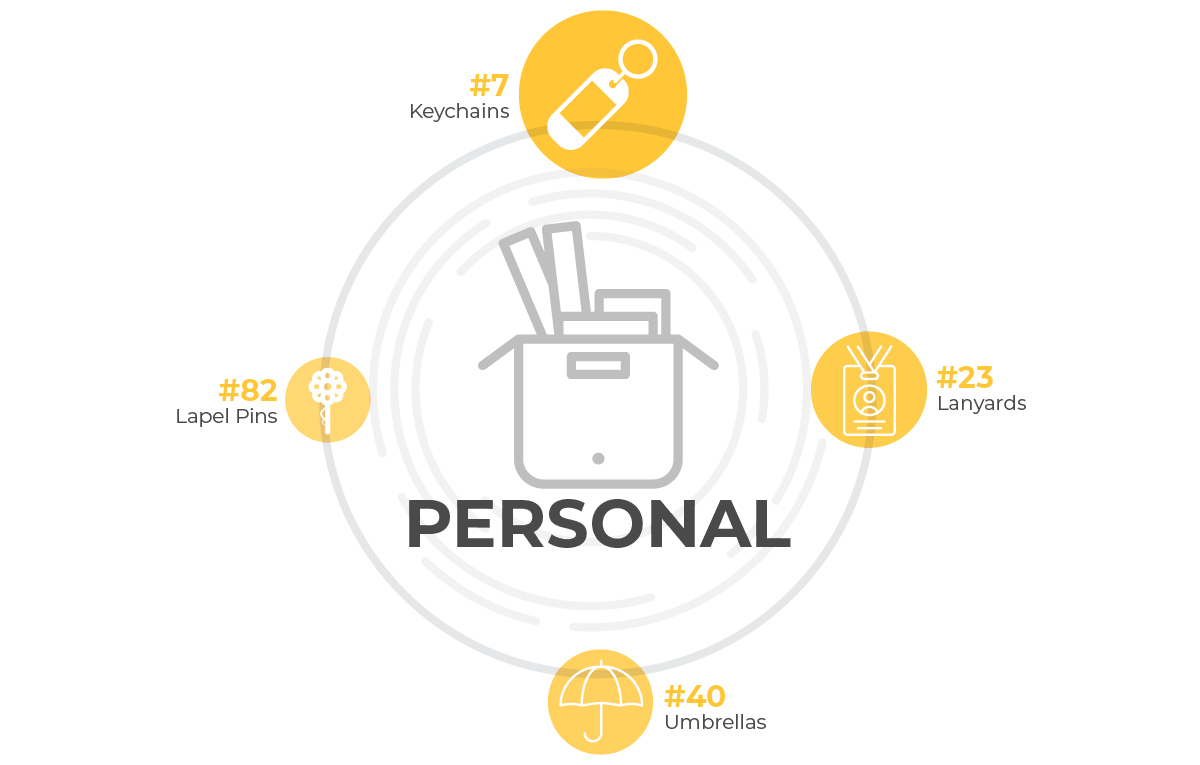 PPE
There was a big drop in PPE searches; many items fell off the list while others (such as gloves) dropped precipitously. Still, masks were the overall number-one search in Q1 2021, which means the demand for PPE has certainly not disappeared.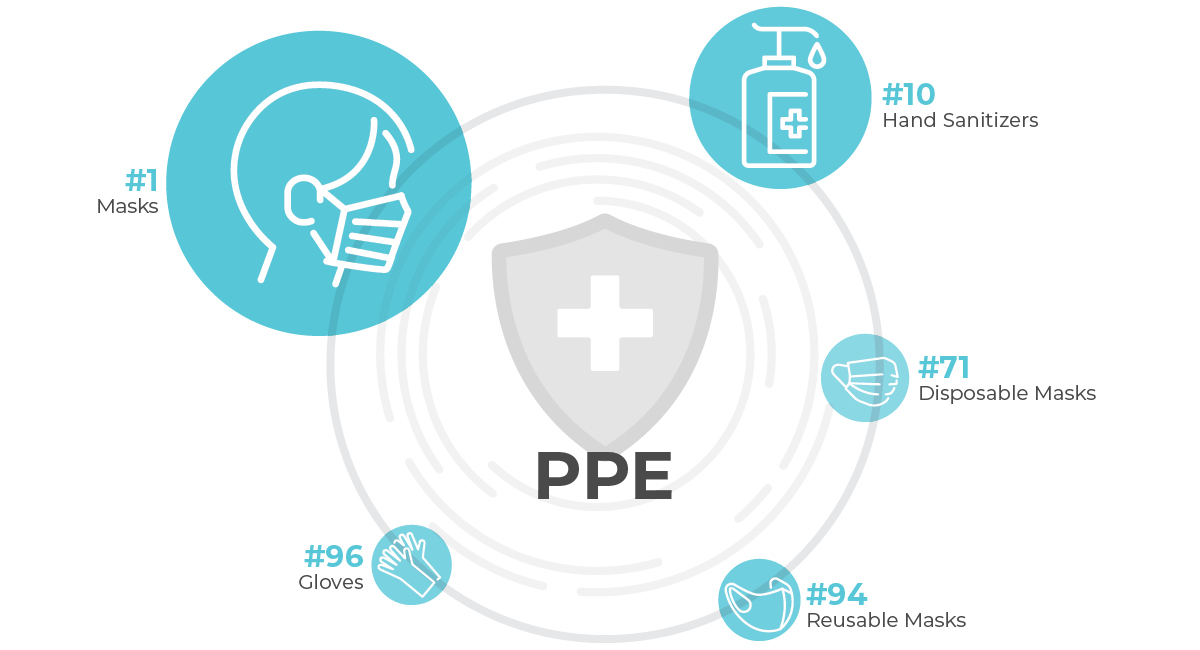 Signs & Display
Even though the category's namesake fell three spots to 24, expect a reversal as more live events return throughout the year.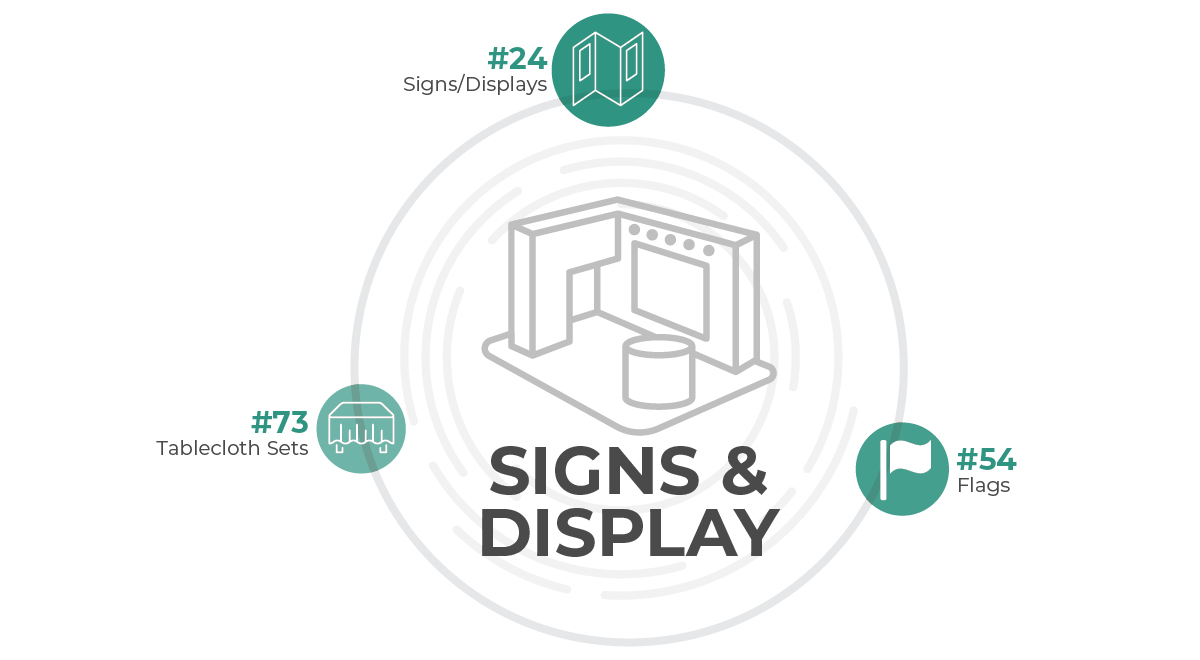 Sports
Fore! Golf season is upon us, causing notable spikes in searches for golf products and golf balls. Yoga products entered the list for the first time and fitness searches rose – both tied to the at-home fitness boom.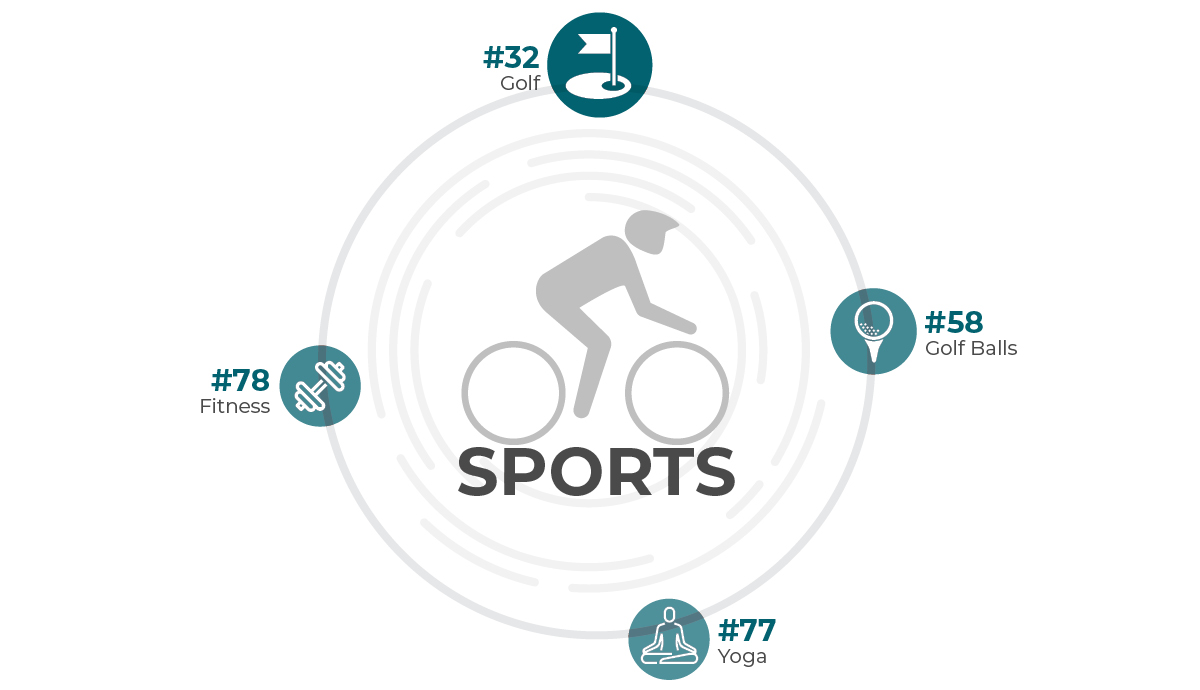 Tech
Mouse pads surprisingly were a big winner in the quarter, while both mobile accessories and power banks (both typically popular categories) each fell more than 10 spots. Wireless charging is also a big oncoming trend, so keep an eye on wireless QI chargers, which entered the list at 98.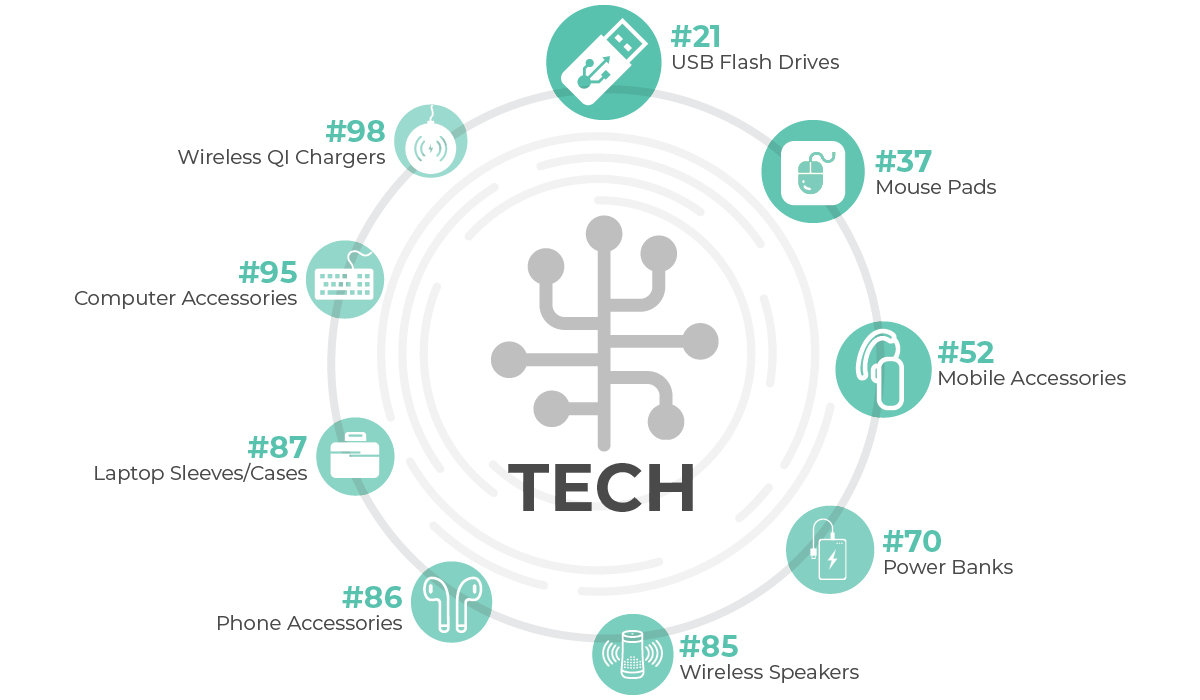 Writing Instruments
Will pens overtake masks as the number-one product in the next quarter? In 2020, masks had about 60% more searches than pens. In Q1, masks had less than 20% more searches than pens.