Bombarded with the upended expectations of a pandemic, it's become non-negotiable that what we wear – especially at home – is soothing and unfussy. As a result, those with an eye on fashion both in and out of the promo industry say COVID has accelerated key apparel trends already in motion pre-pandemic.
"Things have dramatically changed," says Kris Palmer, director of brand solutions at Grapevine Designs (asi/212829). "People are abandoning traditional workwear and looking for casual fabrics that accommodate a more relaxed work environment." Color palettes are shifting to neutrals, earth tones and olives in a soft hand, she says, and there's also demand for deconstructed cuts on traditional work garments like blazers.
Three-Minute Apparel Guide for 2021
The markets, trends and sales strategies worth pursuing next year.
Three Hot Markets
1 Healthcare: Promo's projected top market for 2020 and beyond is thriving in the apparel sector thanks to what Michael Snyder of Bishop Custom Clothing terms "a complete retooling of scrubs." Because essential hospital employees often work punishingly long hours, especially right now, he says they want and need better-feeling garments. "Why does a scrub have to be a scrub?" Snyder says. "It can be really technical. Hospitals want to spend more because they're in this stuff all day." Kris Palmer also notes healthcare as a strong industry for Grapevine Designs.
2 Community Outreach: Jacques Marais of Creative Marketing Concepts notes a surge in business with community and youth centers. Any company that does outreach directly within communities, he reasons, wants its employees to be safe, making them a solid target for giveaway purchases like masks, sanitizer in 2- or 4-oz. sizes, or hats.
3 Transitioning Workers: With employees and companies working from home, alphabroder's Catherine Tremblay says millennials and Generation Z are the ripest targets for a couple reasons. Not only are they already commanding significant buying power, but they're the cohorts that have adapted best. "They're online all the time, using social media and purchasing online anyway," she says. "They didn't miss a beat."
Casual, however, doesn't mean cheap. In a demonstration of appreciation and care, companies are outfitting their work-from-home employees in higher-quality pieces, says Michael Snyder, VP of sales and marketing at Bishop Custom Clothing (asi/40585). And because so many gatherings have been canceled, he says, companies have room in the budget to splurge. "If you can't be there and you're going to send something as personal as apparel, the bar is higher," he says. "And think how much money would've been spent at those events."
Jacques Marais, national sales director for distributor Creative Marketing Concepts (asi/170631), has also seen greater spending on employee gifts during COVID, with increased preference for top brands like Marine Layer, Cotopaxi, North Face and Patagonia. "Companies want their employees to wear them in their off time, too, and they're not going to put on crunchy materials at home," Marais says, adding that tri-blends and soft cottons are popular. In a sign of the times, Marais says an apparel item will often be paired with a self-care gift like an imprinted candle, yoga mat, towel or picnic blanket, plus a clean key, mask or sanitizer as well.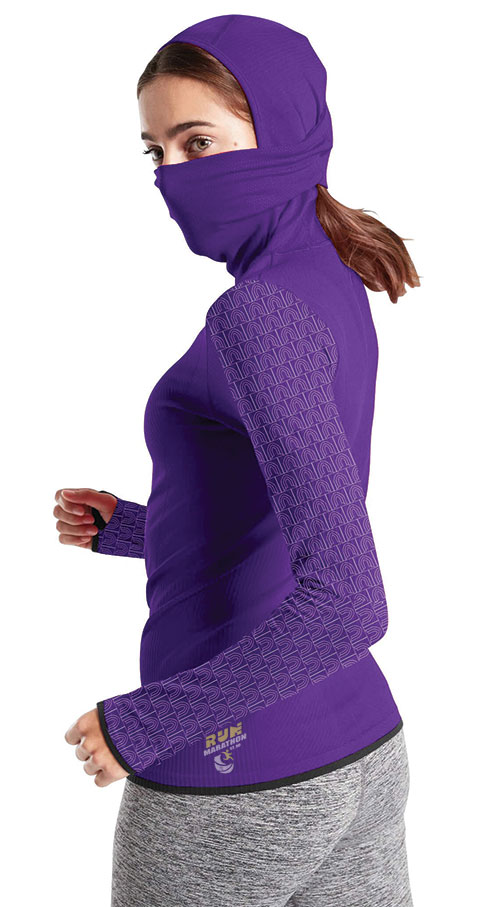 Women's face cover running hoodie from Bishop Custom Clothing (asi/40585); bishopwear.com
Another already-hot trend bolstered by pandemic life, Snyder says, is the interest in performance fabrics. As an example, he mentions Lululemon's ABC men's pants in a warp-knit fabric. "I love those pants and I can't wear anything else," he says. "Old khakis? I can't move in those."
Snyder says "next-generation materials" like a warp-knit will continue to curry favor. These items are more streamlined, he says, without embellishments like extra pockets or adornments. You don't want to get all decked out, "but there's something about getting dressed that makes you feel and think differently," Snyder says of dressing to work from home. "Any good retail brand should recognize that it's fabric-dominant right now."
Active leisure has indeed permeated several industries, as evidenced by the fashion on platforms like Instagram, where Los Angeles stylist Venk Modur draws much of his inspiration for styling his clients. Even suit makers, he says, now are using fabrics that are easily transferrable to kicking back at home. They're also simplifying the sheer amount of fabrics and textiles they're using because the textile industry has been hit hard by the pandemic too.
"Things have dramatically changed. People are abandoning traditional workwear and looking for casual fabrics that accommodate a more relaxed work environment." Kris Palmer, Grapevine Designs
Dave Bowden, style consultant and founder of men's style website IrreverentGent.com, says athleisure's popularity has only increased in lockdown life, and it was wildly popular before. "The gap between what you wear at home and what you wear in public was already closing before the pandemic," he says, "but that trend has really accelerated."
What's Selling, What's Not
Catherine Tremblay, manager of private brand merchandising at alphabroder Canada (asi/34063), is among many who note a waning interest in formal business attire, which is even cutting into sales of old standbys like polos. She's also not seen much demand for opening-price-point items like giveaway T-shirts since most in-person events are on hold indefinitely.
Three Hot Sales Strategies
1 Direct-Mail Campaigns: They're working for distributors like Grapevine Designs, especially for promoting virtual events, and the reason why is simple. "We have a huge number of clients looking to reach their customers – but also their employee base – with packages, direct-mail campaigns and full-fledged offerings sent to their homes," says Palmer. These serve to introduce the company's strategy during the pandemic and can feature a full-color custom message on the package itself, with internal messaging, branded merch and calls to action inside.
2 Zoom Meetings: While clients may still ask for physical samples, Zoom meetings have been a fine stand-in, Marais says, as have e-blasts featuring new product. "In-person meetings are great when you want to meet the entire team and make a connection," he says, "but I don't feel that right now it's so necessary. Even just sending links – if the product is innovative and compelling enough, they buy it just based on that."
3 Digital Materials: Educating buyers and distributors is still key, and alphabroder improved its digital catalog with links to directly embedded videos, along with other efforts including internal webinars on how best to sell to customers virtually and trend presentations about this new normal. At Bishop, the supplier shows off its custom work through photo-real design that Snyder says makes customers feel they could "reach through the screen and touch the product" – a compelling tool in a COVID world. "People see the quality of what we're showing," he says, "and believe we can execute on that."
Instead, "anything that helps comfort people" is selling, she says. "Softer fabrics, sherpas and puffer jackets have that cocoon effect." In unsettling times, she says, clothing is perceived as armor. Other features of apparel selling well at alphabroder are nostalgic touches like tie-dye in boxy, cropped silhouettes and cartoonish prints. Tremblay has also seen more interest in varsity and coaches jackets, another nod to the past. "We've done one that's very athletic, one more street wear, and a workwear one," she says. "They make you think of happy days gone by."
Carefully consider when people are wearing their logoed garments. For employees in constant virtual meetings, thick bulky hoodies – one of promo's go-to giveaways for decades now – comes off as too casual. Instead, Snyder for one is promoting French terry full-zips that can look dressy but also pair with jeans.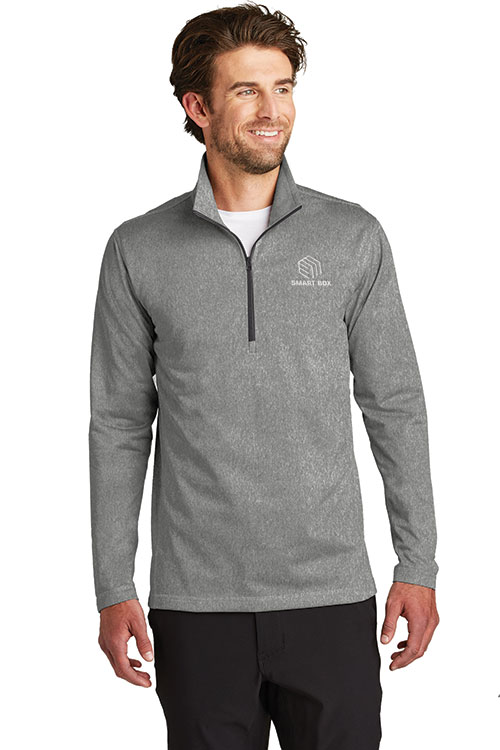 North Face ¼-zip tech fleece (NF0A3LHB) from SanMar (asi/84863); sanmar.com
Lately, Palmer has been introducing SanMar's North Face casual pullovers and quarter-zips to clients. "It's relaxed workwear for Zoom calls or returning to work," she says. "It's a core, basic piece that's very plush, soft and warm." She's less sure whether wovens and outerwear will continue to be strong for Grapevine's programs, many of which are focused on clients managing brick-and-mortar gift shops. While they'll always have their place, Palmer says she believes quarter-zips or items with a softer hand will gradually supplant them. And because she doesn't know what percentage of her clients' workforce will be returning to work, she anticipates more clients hanging on to last season's apparel instead of making a new order.
Virtual meetings also affect fabric, pattern and decoration choices. "Overly printed apparel doesn't really work on Zoom, as it can be distracting to the eye," says Modur, adding that solid, muted colors work best. "You want people to pay attention to you and look at your face, so you'll see more quality basics people can continue wearing for quite some time." Logos are getting higher up on garments too, adds Snyder, with placements on the collar or shoulder versus the classic left chest.
Apparel is even adapting to the need for PPE, as distributors say clients are curious about hoodies with built-in gaiters that function as a mask. While integrated hoodies have been around for a while (Marais recalls showing them years ago to clients who thought they were tacky and actually laughed out loud), they're not only handy now, but offered in better-quality fabrics. "Compared with the initial styles available to us, the fabrications are changing to be very soft and breathable," Palmer says. She adds that people are tiring of solid-color masks and purchasing more fun prints; on the corporate side, this has translated into orders that feature more of a full bleed or a full-color imprint, she says.
Three Hot Trends
1 Nostalgia: Retail has exploded with a wink and a nod to cartoons, tie-dye, neon, rainbows and other emblems that hearken back to childhood, says Palmer. Expect that trend to continue to infiltrate promo through playful color and prints and unique patterned decoration. In addition, a revival of interest in secondhand shopping (consignment, vintage and thrift) will continue bringing mindfulness to shopping and an emphasis on timeless quality. "People are craving luxury, but their pocketbooks can't always do the full-price retail experience," says Venk Modur, a stylist in Los Angeles. "Fashion wouldn't make these shifts unless there was a demand from the consumer, and they're moving together, and that's a first."
2 Minimalism: Ostentatious luxury is struggling to find a place in our pandemic-afflicted society. "Designers are streamlining designs to fit what has been going on in the world," says Modur. Look for minimal, architecturally-structured garments, streamlined seaming and few extra pockets or adornments. Select neutrals and effortless-but-still-stylish comfort will continue to inform garment creation. "It's all purposeful design," Palmer adds.
3 Sustainability: Conscious consumption will remain front-of-mind for consumers. "Millennials aren't unwilling to spend on fashion; they just want bigger bang for their buck and a philosophy they agree with," Palmer says. Many high-profile apparel brands in the promo industry have a compelling eco story to tell, so be sure to include that messaging prominently for both buyers and end-users.
For his part, Marais isn't sure masks will be a lasting boon to promo. "They may go away," he says, "because everyone is doing them. At some point, there will be saturation. Unless you're doing an innovative design that's all about your logo, people are going to be tired of receiving the same thing." In early fall, Marais estimated his sales ratio was at 60/40 between hard goods and apparel, with sanitizer and masks replacing items like pens and notepads that would have been a normal part of trade show business.
The good news for distributors is that apparel items are resurging after the focus on items like PPE and sanitizer. Snyder recalls the early days of the virus, pawing for "any mask or sanitizer you could find," he says, and Bishop will be up 25% this year owing to its leap into masks as well as its heavily merchandised uniform programs. But now, people are getting back into discussing apparel more than they used to, he says.
And don't forget to consider additional costs when it comes to budget, including shipping. "The biggest hurdle is getting recipients their products, because things have to ship to people's homes," Marais says. "If it costs a company $8 to $10 to ship a $30 product to someone's home, it cuts into the budget." Still, he's expecting a big uptick in apparel toward year-end and thinks it has more longevity than experiential gifts.
Regardless of the type of apparel, Palmer anticipates a continued emphasis on value. "People aren't necessarily following trends in a traditional sense," she says. What's "trendy" has taken a backseat this year to items that are relaxed, fit well and look good. As the pandemic continues into 2021, that's an idea distributors will need to get comfortable with.