Howard Potter's business was on the brink.
After 17 years of building up A&P Master Images (asi/102019), Potter saw his Utica, NY-based company teetering toward ruin. It seemed to happen overnight. Shutdown measures tied to the coronavirus pandemic brought economic activity suddenly to a halt. A&P's sales, which had been up year-over-year through February, virtually vanished in early March.
Distraught, Potter and his wife/business partner Amanda made the gut-wrenching decision to lay off two-thirds of their workforce, yet vowed to bring them back as soon as they could. They were able to begin doing so within days, before even seeing a dime of government stimulus money.
How?
A&P made an abrupt pivot to manufacturing and selling a range of personal protective equipment (PPE) using the distributor's in-house production capabilities. The agile turn proved so successful that overall sales at A&P recovered and increased 20% year-over-year for the first quarter. PPE accounted for about 40% of the firm's Q1 revenue.
In this Promo Insiders podcast, Howard Potter discusses his company's successful pivot to PPE.
"You have to work like you never have before to stay ahead," says Potter. "That meant getting into something totally new for us – PPE. It's allowed us to get our people back and to meet customers we would have never met, which has created unique opportunities for sales of branded apparel and hard goods."
A&P's feet-first jump into PPE is representative of a rapid and seismic shift in promo. As event cancellations, business shutdowns and frozen marketing budgets largely wiped out sales of promo products, industry firms were left looking for answers. PPE represented a substantial lifeline – a call to action that put the promo industry's mighty sourcing and manufacturing capabilities to work in arming the world with the items it needed to beat back the coronavirus pandemic.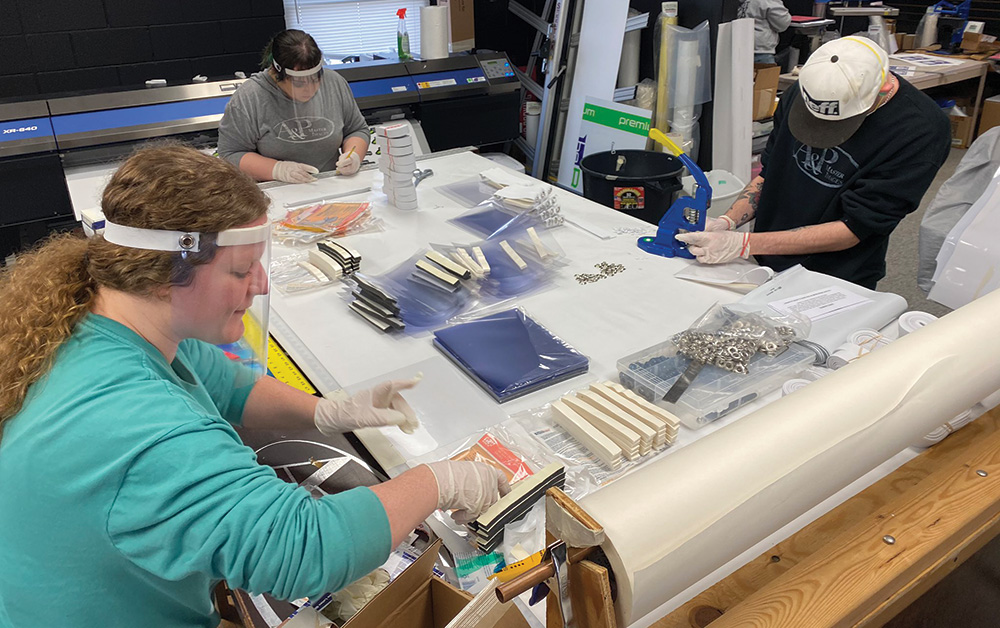 Making face shields at A&P Master Images has allowed the New York based distributor to hire its workforce back and revive its sales.
Success with PPE has varied, and not every firm has generated significant sales of the products. For many, however, the nimble pivot to PPE has produced considerable revenue and proved to be a life preserver for their businesses amid rising waters. "PPE," says Steve Flaughers, president and CEO of Ohio-based Proforma 3rd Degree Marketing (asi/300094), "has helped us keep the lights on, ensured our employees are paid and enabled us to have no need for government loans."
Retooling Sourcing & Production
The insatiable demand for health products started at the end of February, when requests for hand sanitizer skyrocketed – an item typically manufactured and offered by many promo suppliers.
Then, as both the number of COVID-19 cases and social distancing measures ramped up this spring, the market for PPE and related medical supplies grew massively. Hospitals, first responders and "essential" businesses that remained opened were facing critical shortages of face masks, face shields, isolation gowns and other such products amid the pandemic.
It wasn't long before promo industry companies stepped in.
On the supplier side, HanesBrands (asi/59528), SanMar (asi/84863) and Fruit of the Loom (asi/84257) received national attention for their roles in a consortium of apparel manufacturers that redirected production capabilities to produce millions of face masks for healthcare professionals as part of a contract with the federal government. Top 40 firms Gildan (asi/56842) and Delta Apparel (asi/49172) and others would later begin mask-making too.
Rachel Newman, vice president and general manager of Hanes Activewear, discusses the company's swift move to making masks.
"The masks are designed so they can be produced on equipment normally used for T-shirts, so that allowed us to pivot quickly," says Jeremy Lott, president of Top 40 supplier SanMar. "While these are sold, it really just covers our costs. The positive has been truly helping people and keeping our factory workers employed."
As the need for PPE soared, more suppliers began sourcing and/or directly manufacturing the products. Top 40 firm SnugZ/USA (asi/88060) was one of the early adopters, as it began making cotton tie masks in its Utah facility. Minnesota-based Showdown Displays (asi/87188) launched production of medical gowns, protective screens and masks. Los Angeles Apparel (asi/67971) swiftly dedicated production to making masks in its LA factory, as did Vancouver, WA-based Allmade (asi/34341), which created an eco-friendly mask made from recycled polyester, organic cotton and modal.
"We've been selling and donating as many as we can," says Allmade CEO Ryan Moor, who also leads Ryonet, an apparel decoration equipment and supply company that's been producing PPE face shields. "Mask sales at Allmade have equaled the lost T-shirt sales we've experienced."
Elsewhere, Fey Promo (asi/54040) has had what some industry observers believe is one of the most successful switches to PPE. Because the Edgerton, MN-based supplier has in-house capabilities that include radio frequency heat-sealing, thermoforming, injection molding and sonic welding, it was able to retrofit quickly to accommodate the assembly of its Preserve-A-Mask Face Shields and Medical Protective Isolation Gowns.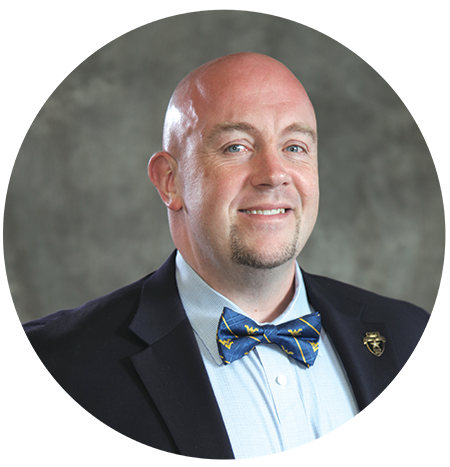 "PPE has helped us keep the lights on, ensured our employees are paid and enabled us to have no need for government loans." Steve Flaughers, Proforma 3rd Degree Marketing
Fey makes the products in its QCA-accredited facility. Initially, the company sold the products to hospitals, nursing homes, clinics, fire departments and EMT services in its local area. Fey then began selling through promo distributors to give its PPE items a national reach. "Within just a few days, we went from not making PPE to churning out tens of thousands of face shields for nationwide distribution," says Beth Friese, Fey's marketing services manager. "Our production has been running 24 hours, six days a week to meet the demand for the isolation gowns."
Fey is developing additional PPE, medical and related products that are in need in healthcare settings, including Tyvek Wristlok and Vinyl Wristlok wristbands, informational magnets, indoor and outdoor magnetic signage, stickers, and adhesive decals for mirrors, windows, doors, walls and floors.
"From a financial impact, PPE has been a lifeline as revenue from promo items is down drastically," says Friese. She notes that Fey plans to continue making PPE for the medical community after the COVID-19 threat subsides.
Remain Nimble & Adapt
The demand for PPE has spurred distributors – ranging from mom-and-pop operations to Top 40 firms – to incorporate the products into their sales efforts, sourcing from both stateside industry suppliers and directly from factories in China. Certain distributors have executed seven-figure sales. "We've seen requests from as few as 1,500 pieces up to 15 million pieces," says Flaughers.
Albuquerque, NM-based distributorship Achievement Gallery (asi/103570) is among the firms to have success with this new revenue stream. With the help of PPE and strategic prospecting that kept traditional promo business churning, Achievement Gallery was generating year-over-year monthly sales increases in the spring. "We recently had a $35,000 order of masks from our largest hospital client," President and owner Melanie Burns told Counselor in mid-April.
When COVID-19's economic impacts struck, Chicago-based Edventure Promotions' (asi/186055) sales came to a "screeching halt," says owner Ed Levy. But Levy's sourcing research opened the door to PPE. Subsequent sales of such items bolstered business back to about 50% of what it was pre-virus. "We've even gained new clients we would've not been able to talk to otherwise because we could deliver legitimate product," Levy says.
Nonetheless, dealing with overseas factories in an unfamiliar product category certainly exposed distributors and suppliers to risk. In the Netherlands in late March, 600,000 N95 masks were recalled for failing to meet quality standards. Two weeks later, nearly 50,000 KN95 masks sent to first responders in Missouri were also recalled.
The recalls had a cascading effect in China, which makes more than 40% of the world's imports of masks, gloves, goggles, visors and medical garments, according to the Peterson Institute for International Economics. The country enacted policies that officials said were intended to assure that medical product exports meet standards (while also ensuring that necessary items China needs for its coronavirus fight aren't sent abroad). As a result, importers in the promotional products industry began experiencing delays with PPE items, thanks to stricter customs checks and freight capacity issues.
Things became even more complicated in late April as reports emerged that China was "nationalizing" certain large mask-producing factories, which was said to be making it more difficult and expensive for stateside companies, including promo firms, to import the sought-after PPE supplies. At least one distributor reported that it couldn't get masks it had ordered from a China-based factory because of the situation – a reality that cost the company large-volume orders.
PPE CRAZE
Searches for PPE products in ESP skyrocketed in March. For example, N95 masks were the 1,370 most-searched-for item in February; in March, they were 15th.
Percentage Increase in PPE Searches from February to March in ESP
Meanwhile, rampant demand for PPE during the pandemic also created conditions rife for price gouging and scamming. While domestic promo suppliers and distributors weren't accused of wrongdoing, industry companies had dealt with scam attempts and other issues, particularly when importing.
A Top 40 distributor told Counselor of so-called "bait-and-switch" issues with orders. In one instance, the distributor spent $2 million on what it believed would be PPE masks that would be authorized for use in a medical setting. When the masks arrived from the China-based supplier, they were not of the grade or quality promised. In the spring, Tonia Allen Gould, CEO of California-based distributor Tagsource (asi/341358), uncovered that would-be PPE scammers were targeting her. Fortunately, she caught the ruse before losing any money or handing over sensitive business or financial information.
Considering the opportunity to revive sales that were all but dead, many distributors have been willing to accept the risk. Executives on the supplier and distributor sides of the industry maintain that pivoting to PPE – or otherwise redirecting a business' focus to adapt to changing marketplace conditions – is only possible with effective leadership. That involves recognizing opportunities, understanding the risks and potential benefits, and then acting fast to put in play an intelligent action plan for making a new venture a success.
When widespread closures started and sales began to disappear, A&P's Potter admits he reeled for a day or so, but then he got to researching legitimate companies from which to source PPE. Research also led him to discover the demand for face shields, which put him on the trail of learning how to build shields in-house – something accomplished within days. From there, he obtained official "essential" status for his business and implemented a full-throttle marketing and sales effort aimed at prospects with a desperate need for PPE. "Pretend every day will be a loss and work to improve every day," says Potter.
Relatedly, Flaughers emphasized that leaders can more quickly adapt their businesses to changing marketplace dynamics if they assess what tools they already have at their disposal that can be leveraged to make the most of opportunities that do exist. Being a Proforma affiliate, Flaughers' Proforma 3rd Degree Marketing was able to take advantage of the Top 40 distributor's extensive network of vetted preferred vendors, which he says afforded him easy access to quality PPE products.
"You need to know your products, understand your supply chain and make sure your business is in a sound financial position to withstand hard times," Flaughers says.
Diversification is woven into the DNA of promo companies, adapting their model and services as the needs of their customers dictate. PPE is just the latest example in that long-standing tradition. "We have to be willing to roll with the punches and keep swinging," says Flaughers. "It's a mindset: Adapt and put the work in to do it."