Patti Morisset, like many in the promotional products industry, has been working harder and longer than ever before.
In 2020, the creative merchandise director at Renton, WA-based Kaye-Smith (asi/239444) took only a handful of days off. Due to travel restrictions and uncertainty because of the COVID-19 pandemic, she couldn't take her usual two-week vacation in Hawaii. She didn't even take sick days because she transitioned to working from home. Without the fear of spreading germs in the office, she could just nestle up to her computer with a cup of tea.
"With all the Zoom calls happening, it seems like there isn't a single day in the week where you can get away for a vacation day without having to call in for a meeting," Morisset says. "When in the office, those meetings might not even happen as you are getting the details on a drop-in or a hallway conservation. But because everyone is at home, the information isn't getting passed around."
With more than 130 hours of vacation time and more than two weeks' worth of sick days, it was impossible for Morisset to use it all before the end of the year. All of that paid time off (PTO) got swept away on Jan. 1, 2021, as it did for millions of other employees across the United States.
"With all the Zoom calls happening, it seems like there isn't a single day in the week where you can get away for a vacation day without having to call in for a meeting."Patti Morisset, Kaye-Smith
Even before the coronavirus outbreak, Americans were increasingly disregarding their PTO. In 2018, employees left a record 768 million days on the table, up 9% from 2017, according to research from the U.S. Travel Association, Oxford Economics and Ipsos. Of the unused days, 236 million were forfeited, equating to $65.5 billion in lost benefits.
Unsurprisingly and unfortunately, the trend continued in 2020. A survey by ASI found that nearly half (47%) of promo professionals took less time off last year than in 2019. Only 16% used more PTO.
Consider Dayton, OH-based Shumsky (asi/326300). From April 1, 2019, to October 31, 2019, the company reported that 4,269 PTO hours were taken. In that same timeframe last year, the amount was nearly cut in half to 2,585.
It's another byproduct of the pandemic disrupting our lives. "It was so sad to see the year coming to an end and not having photos or memories of the family having fun vacationing together," Morisset says.
According to an early 2020 survey from global staffing firm Robert Half, 28% of employees in the U.S. anticipated taking fewer days off in the summer compared to last year. More than one-third saved their vacation time for later in the year, but when the holidays rolled around, 38% took less PTO than they did in 2019, reported iSolved, a human resources consulting agency.
In this episode of Promo Insiders, Executive Editor Theresa Hegel talks with Senior Writer John Corrigan about the industry's inability (and refusal) to take time off.
"Teams are running lean, and employees have more on their plates," says Paul McDonald, senior executive director of Robert Half. "Staff may feel inclined to save vacation time for when their workloads lighten and they can travel with greater ease. But now more than ever, it's crucial to carve out time to rest, reset and recharge."
The obstacles for taking PTO are even greater for small companies. With staff reductions across the board, certain tasks may not get accomplished if even one employee takes time off. And even if they can, they may worry about appearing dispensable, especially with so many people looking for work right now. "Since COVID-19, we've been running double the hours on less than half the staff," says Donnell Avila, sales and operations manager at Houston-based PEGG Products LLC (asi/292782).
Promo Industry PTO Usage – 2020 vs. 2019
Another factor to consider is the promo industry's pivot to personal protective equipment (PPE). When business came to a screeching halt last spring, both suppliers and distributors sought out alternatives to survive. Several suppliers used their manufacturing capabilities to shift production to face masks, neck gaiters, hand sanitizer and other PPE. As for distributors, they had to not only learn a whole new product category, but also stay up to date with the evolving guidelines based on new studies of the materials.
"It took a lot of time, effort and energy to make that pivot," says Rick Greenberg, business advisor at Top 40 distributor Fully Promoted (asi/384000). "I didn't take as much time off as I would have because we were just so busy. Even on PTO days, it seems that hours are taken up with calls and emails that need responses."
Clock Out or Pass Out
Even though 2020 was a hellscape, most workers refused any down time.
According to Robert Half, only 20% of U.S. employees planned in 2020 to take days off for self-care and mental health. While many feared that stepping away during such a crucial time would hurt business, not doing so would have a far greater impact on both the company and the employee. There are decades of studies illustrating the benefits of vacation: stress reduction, heart disease prevention, better sleep, newfound creativity and increased productivity, just to name a few.
Avoiding vacation is also costly – Harvard Business School researchers have determined that workplace stress accounts for $125 billion to $190 billion in healthcare spending each year in the U.S., representing 5%-8% of total healthcare costs. "As is often the case with burnout, by the time you realize you're burnt out, it's too late," says California-based therapist Sara Stanizai. "So, turning off your ringer or forcing yourself to take a break may seem like overkill, but doing it before you feel like you need it will ensure that you are more prepared for your work."
Industry leaders say they understand the importance of taking time off and encourage their employees to take their PTO. "Taking care of yourself, mentally, has never been more important than it is right now," says Jeff Becker, president of Top 40 distributor Kotis Design (asi/244898). "We need to be ready for when the economy returns and our clients are buying."
"I felt that it was incredibly important to take a break and get a change of scenery for my own mental well-being."Linda Milano, CFB Promotional Products
Top 40 supplier Polyconcept North America (PCNA, asi/78897) encouraged employees to use their PTO in the summer when business was slower. As orders picked up heading into the holiday season – traditionally the industry's busiest time of the year – it became more challenging for employees to fit PTO into their schedule while juggling customers' needs. "This year has been stressful for all of us in many ways and we recognize how important it is for our team to have time away," says David Nicholson, vice chairman of PCNA. "In fact, we're currently exploring some additional options to allow for even more flexibility in 2021."
The amount of PTO that companies allow to be carried over varies across the industry.
Some firms like PCNA and Top 40 supplier TSC Apparel (asi/90518) currently allow roll over up to 40 hours. Other companies like Top 40 distributor American Solutions for Business (asi/120075) allow 120 hours. Top 40 supplier SanMar (asi/84863) allows 400 hours to be carried over and offers the option for employees to cash out up to 80 unused hours each year.
Did you use all your PTO in 2020?🤔#Poll #PTO

— ASICentral (@asicentral) February 16, 2021
"SanMar definitely encourages us to use our PTO and keep a great work/family life balance," says Kelly Davis, account coordinator at SanMar. "It's super nice that we have these options available to us for managing our time off."
In addition to vacation time, Top 40 distributor Geiger (asi/202900) provides employees with 56 hours of flexible time off (FTO), which is frontloaded at the beginning of the year. Unused FTO gets carried over into future years, up to a maximum of 240 hours. Top 40 distributor Proforma (asi/300094) also separates vacation time from PTO, which is used for sick leave, unplanned occurrences such as car problems and other necessities like doctor's appointments. "We've had fewer people out for illnesses since most continue to work remotely, even if they have the sniffles or a headache," says Kathy Mayo, director of human resources at Proforma.
And then there's Top 40 distributor AIA Corporation (asi/109480), which grants its salaried employees unlimited PTO. "AIA values each employee's commitment to providing best-in-class services and value," says Nancy Schmidt, CEO of AIA. "As an organization, we encourage employees to take time away from work to nurture relationships and experiences outside of their work family. We find our employees are uniquely committed and proud of their work and we frequently encourage employees to schedule recurring time off so they return refreshed and rejuvenated."
Despite companies' insistence to take time off, some employees remain reluctant to step away. Joe Favre, sales manager at New York-based Vanguard Direct (asi/350665), says he took less PTO to be a team player. "It's a bit of a 'give back' based on the remote work flexibility afforded by my company even as in-office policies slowly come back," Favre says. "In other words, it's the least I can do. In 2020, it was truly an 'all-hands-on-deck' year in countless ways. With that in mind, there's a widespread desire to continue to contribute 110% to the efforts to keep things moving forward."
Adapting to COVID-19
Because of the unprecedented nature of 2020, some companies have adjusted their PTO policy, allowing a one-time exception for employees to carry over more hours than usual. Top 40 distributor HALO Branded Solutions (asi/356000) increased the rollover amount from 40 hours to 80 hours, with the caveat that employees take 40 of those hours by the end of Q1 2021. Since May (Mental Health Awareness Month), HALO has been emailing its workers with information about the importance of taking time off from work.
"We know that our people need a break and we're encouraging them to take time," says Sean Radford, chief human resources officer at HALO. "We have let managers know where their employee balances stand, asking them to encourage employees to take days off even if they aren't traveling anywhere. However, our senior salaried, management and executive employees have been taking less PTO because of how busy we are."
Richardson, TX-based Metropak (asi/70830) implemented an alternative for its 45 employees: they were paid for all unused PTO or carried over three days' worth, as long as they take it before April 15, 2021. "Usually if you don't use it, you lose it," says Eric Grossman, CEO of Metropak.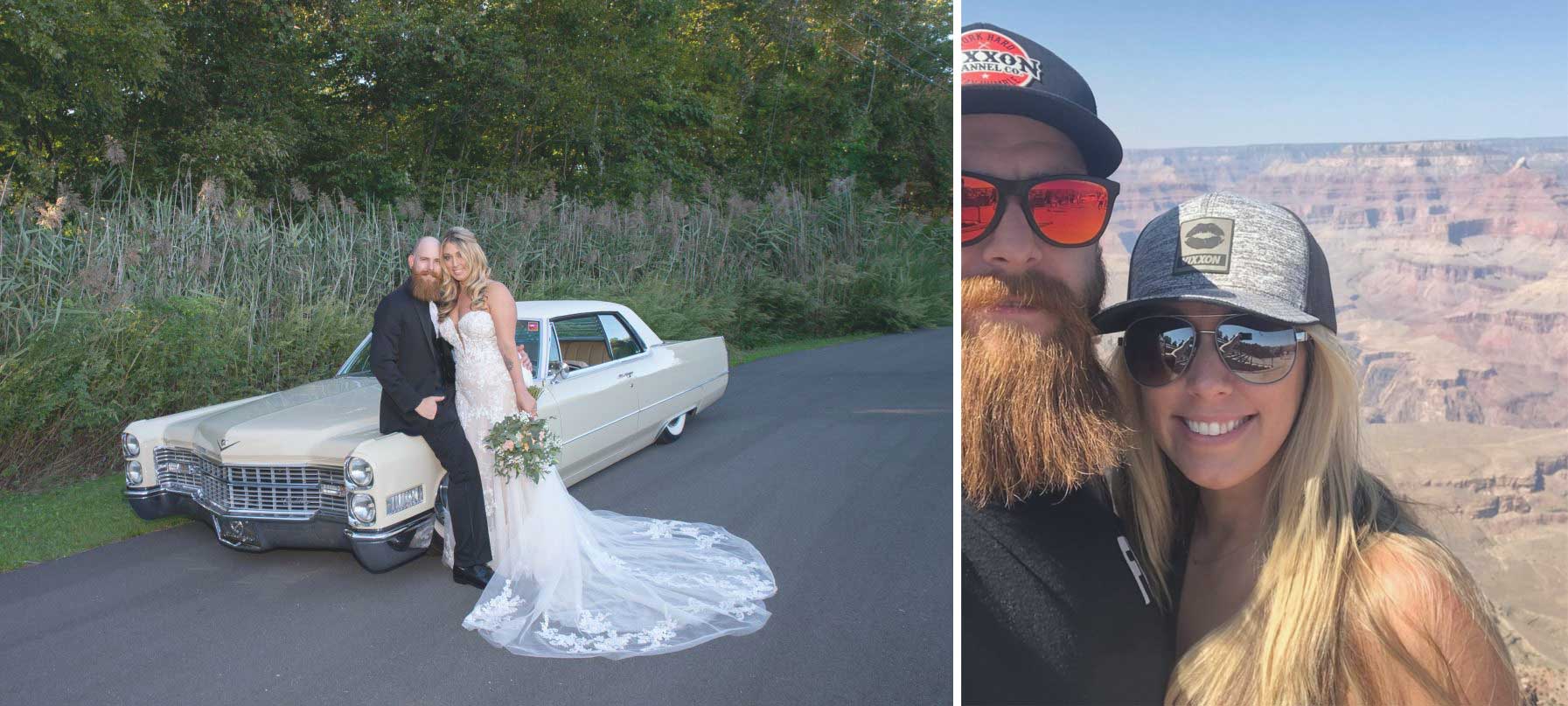 COVID stopped many people from taking PTO last year, but not Amy Serrano. The director of marketing for Barker Specialty (asi/132690) got married in September and took a road trip through Arizona for her honeymoon.
Not all companies have that flexibility. Minneapolis-based distributor Custom Business Forms (asi/173104) urged its 30 employees to take as much PTO as possible in 2020 because they wouldn't be allowed to carry hours over. "If things get back to normal, I can't have everyone taking additional time off," says Frank Miske III, vice president of Custom Business Forms. "No work will get done."
For solopreneurs, taking time off can halt your momentum. If you're not working, there's no money coming in. However, it's vital to unplug every now and then to sustain yourself. Distributor Linda Milano realizes that better than most. The president of Sicklerville, NJ-based CFB Promotional Products, a Kaeser & Blair (asi/238600) dealer, recently took her family to a private cottage in Bar Harbor, ME.
"I felt that it was incredibly important to take a break and get a change of scenery for my own mental well-being, as well as my family's," Milano says. "Having a clear separation of boundaries between your work life and personal life is a challenge when working from home, but it's more important than ever. I hope that many will see the importance of taking time off and refreshing your mind, body and soul, especially during these challenging times."
Amy Serrano, director of marketing at Cheshire, CT-based Barker Specialty (asi/132690), also set aside time last year for a family gathering: her wedding. She got engaged in January and tied the knot in September, COVID-19 be damned. The original honeymoon destination of Barcelona, Spain, was nixed, so she and her husband rented a jeep and took a road trip through Arizona.
"I took two weeks off and came back to work not only with a new last name, but with a new mindset ready to help lead our team toward a strong fourth quarter," Serrano says. "During these unprecedented times, most of our focus is set to survival mode and grinding to make things happen. But we don't want to run ourselves ragged and into the ground where we won't be any good to our business or clients."